Cook Recipes
Don't like too much greens in your salad? Then this Primavera Pasta Salad by i…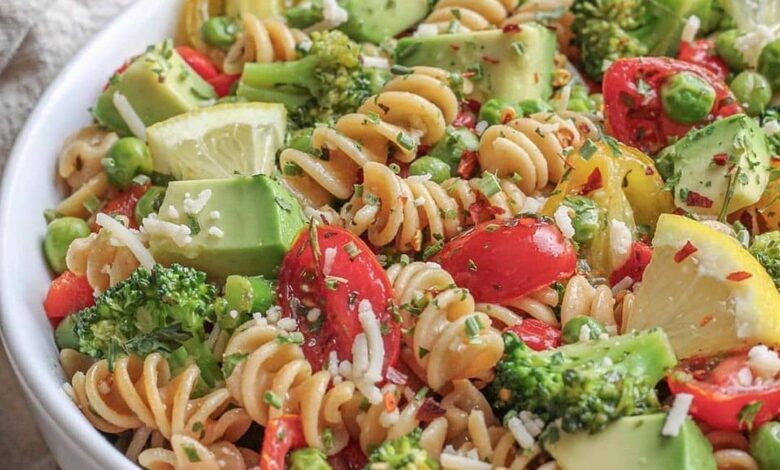 Don't like too much greens in your salad? 😉 Then this Primavera Pasta Salad by janetsmunchmeals is for you! 🍃 It's filled with delicious vegetables, flavourful herbs and a tangy dressing.
​
​Whether you're looking for a great picnic dish or light meal, this pasta salad is a delicious option that you can make in less than 30 minutes! ❤️
​The simple recipe is below 🍃👇🏼
.
1/2 lb. pasta of choice
2 cups (packed) broccoli florets, bite-sized pieces
1 1/4 cups frozen peas
1/2 cup vegetable broth
1 pint cherry or grape tomatoes
1/3 cup roasted red peppers, sliced or chopped
1/3 cup olives, coarsely chopped
1/3 cup vegan parmesan cheese
1 avocado, diced
Extra lemon to serve
Dressing:
1 tbsp chives
2 tsp dried basil
1 tsp dried parsley
1 tsp kosher salt
1/2 tsp pepper
1 tsp garlic powder
1 tbsp dijon mustard
2 tsp white wine vinegar
Juice of 1 to 1 1/2 lemons, to taste
1 tsp agave nectar
1/4 cup olive oil
Cook the pasta according to package directions in salted water, to al dente, then drain.
Meanwhile, add broccoli and peas to a large pan with vegetable broth. Cover and bring to a simmer, cook for 3 to 4 min then remove lid and cook another couple minutes to allow liquid to evaporate. The broccoli should be crisp-tender, so drain away any liquid that remains.
While those are cooking, chop the tomatoes, peppers and olives. Add these to the broccoli and peas once those are done. Whisk together the dressing, and add it to the pan along with the cooked pasta and parmesan. Stir well, taste for seasoning. Top with diced avocado. Serve with lemon.
.
.
Get Our new over 100 Vegan Recipes eBook 👉 Link in BIO
.
.
.
.