Showbiz
Waseem Badami, Saba Faisal, Adnan Siddiqui, and other notables come together for prayers at Shaista Lodhi's house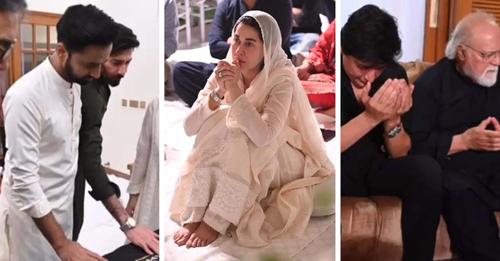 Shaista Lodhi is a renowned morning show host and actress in Pakistan, who has been hosting morning shows on various private TV channels for the past decade. Many viewers have expressed that they have learned a lot from her shows.
Additionally, Shaista Lodhi is also known for her religious beliefs and practices. In April of last year, she performed Umrah and documented her experience through a vlog that she shared with her fans on YouTube. She was fortunate enough to participate in the stitching of the Ghilaf E Kaaba, which is a significant honor for pilgrims.
During her Umrah, Shaista Lodhi collected numerous historical items from Saudi Arabia and displayed them at her home for visitors to view. On the occasion of 15th Shaban (Shab-e-Barat), Shaista Lodhi hosted a prayer ceremony at her home and invited many of her friends from the media industry, including Waseem Badami, Adnan Siddiqui, and Saba Faisal, as well as her parents and siblings.
During the prayer ceremony, Durood, prayers, and Naat-e-Mehfil were recited. Shaista Lodhi shared her collection of beautiful and precious gifts with her guests, and many of her friends also participated in the prayer. The gathering provided an opportunity for everyone to pray for the forgiveness of their sins.
If you are interested in viewing pictures of Shaista Lodhi's friends and family at the prayer ceremony held at her home, you may find them below.
It is worth acknowledging the efforts of Pakistani celebrities who show their commitment to Islam. Such efforts can inspire others to appreciate and value their religious beliefs. If you have any thoughts or opinions on this matter, please feel free to share them. Thank you!