Showbiz
Happy 1st birthday to Feroze Khan and Syeda Alizay Fatima's adorable daughter, Fatima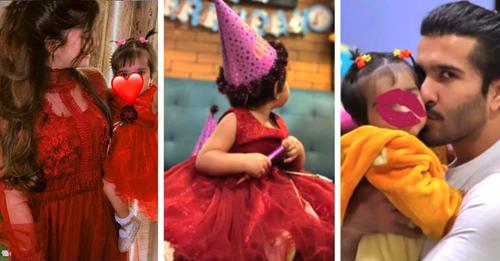 Up until a few months ago, actor Feroze Khan and his non-showbiz wife Syeda Alizay Fatima were enjoying a happy marriage. Despite her lack of celebrity status, Fatima was every bit as glamorous as a leading lady. However, they recently encountered problems that led to their decision to end their marriage through divorce. While Feroze Khan has not disclosed the cause of their sudden split, Fatima has revealed that her former spouse subjected her to abuse.
In 2018, Feroze Khan tied the knot with Syeda Alizay Fatima and the couple welcomed a son named Sultan and a daughter named Fatima during their four-year marriage. However, since their divorce, the issue of custody of their children is still being decided in court. Fatima is seeking child support for both Sultan and Fatima, while Feroze Khan has his own perspective on the terms she has proposed.
Following the accusations made by Syeda Alizay Fatima, Feroze Khan has reportedly experienced a decline in the number of TV dramas he is being offered. This is due to the fact that many actresses in the entertainment industry have voiced their opposition to domestic violence in any form. Recently, when Iqra Aziz, the wife of Yasir Hussain, was approached to play a lead role alongside Feroze Khan, she refused the offer outright. As a result, the director had to recast the role with another actor. It is worth noting that Iqra Aziz had previously acted opposite Feroze Khan in the popular drama serial "Khuda Aur Mohabbat – Season 3" on Geo TV.
Feroze Khan and Syed Alizay Fatima's daughter, Fatima, recently celebrated her first birthday and to mark the occasion, Alizay organized a party to make it a memorable event. The mother-daughter duo wore matching red gowns for the celebration. Additionally, Fatima shared some pictures of the birthday party on her Instagram account, however, she opted to hide her daughter's face in the photos.
If you would like to see some lovely pictures of Syeda Alizay Fatima celebrating her daughter's first birthday, please take a look at the photos below!
In addition, Feroze Khan also posted a photo on his Instagram account, where he can be seen holding his daughter Fatima on his lap.
Here is the message that Feroze Khan wrote to his daughter on her first birthday:
If you would like to join us in wishing Feroze Khan and Syeda Alizay Fatima's daughter Fatima a happy first birthday, please leave your messages in the comment section below. We pray that Allah makes things easier for Feroze Khan and his ex-wife Alizay Fatima, Ameen.