Showbiz
Sajal Aly steals the show at "What's Love Got to Do with It?" UK premiere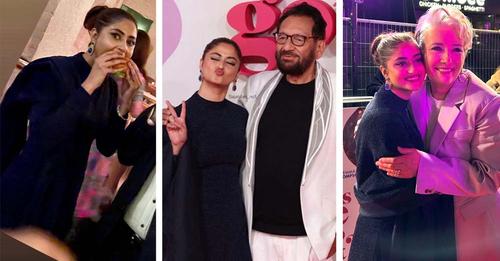 Sajal Aly, a talented actress from Pakistan, has now been acknowledged as one of the finest actresses in Hollywood, after already being recognized as the best in Pakistan and India. Aly began her journey in showbiz as a young girl, driven by difficult financial circumstances at home. She never anticipated that her hard work would garner such overwhelming appreciation, leading her to become a top actress in Pakistan in a matter of years. As she says, effort never goes to waste, and those who work hard are rewarded by the Almighty.
It is widely known that Sajal Aly will soon be featured in a Hollywood film, marking her transition from the Asian market to the global stage. The actress is set to make her English-film debut in the movie "What's Love Got To Do With It", which was written by Jemima Khan and directed by renowned Indian filmmaker Shekhar Kapur. The film, which explores the nuances of arranged marriage in Pakistani culture, is based on Khan's personal experiences of living in Pakistan for a decade. The movie is scheduled for release in the UK tomorrow.
Sajal Aly is a prominent figure in the upcoming movie, and her fans have been left in awe by her stunning appearance in the film's trailer. Recently, the actress attended the UK premiere of "What's Love Got To Do With It" alongside the rest of the cast and crew. She looked absolutely gorgeous in a glittering gown, with her hair styled in an elegant bun and her makeup beautifully done. Notably, Aly continues to win the hearts of people worldwide by showcasing Pakistani cultural attire even on international platforms.
Sajal Aly had the opportunity to work alongside the late Indian actress Sridevi in the movie "Mom" before making her English-film debut in the UK release of "What's Love Got To Do With It", which has been met with unprecedented success. It remains to be seen how much the talented actress will continue to make her mark in the industry with her first Hollywood film.
For those interested in viewing photos of Sajal Aly from the UK premiere of her debut Hollywood film, "What's Love Got To Do With It", please check them out below.
Currently, in the year 2023, Sajal Aly is a 29-year-old actress who has gone through one marriage in her lifetime, which ultimately concluded in a divorce.
We would love to hear your thoughts in the comment section if you are eagerly anticipating Sajal Aly's performance in the upcoming movie. Thank you!