Showbiz
Nora Fatehi burns internet, flaunts her dance moves in denim shorts on beach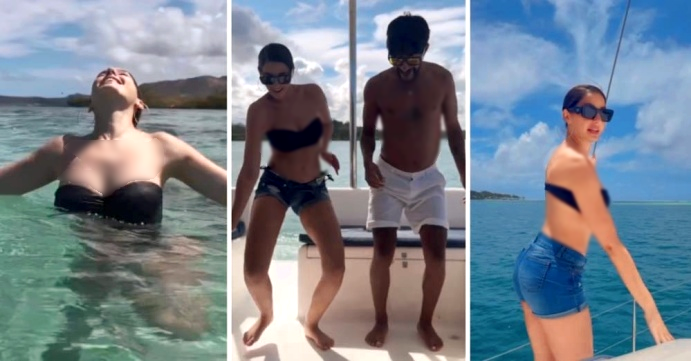 Who does not know Noreh Fatehi? She is an Indo-Canadian actress who was raised in Canada. The actress moved to India to try her luck in Bollywood. She has some phenomenal dance skills. What a great belly dancer she is! She has never failed to amuse us with her dance skills. Nora has also been a part of dance shows which include Dance India Dance. Her hard work and struggle made her judge the biggest dance show in India.
With all of this massive success, she is now known to millions of people and is ruling hearts since then. The star has such a well-maintained physique and is such a big fitness freak. The actress and model Nora Fatehi have also done lots of commercials and brand shoots.
Recently a video has been circulating on social media which was posted by the actress herself on her official Instagram account. In the reel, she along her friends went to Dubai for her birthday celebrations, and post to that she was seen on a yacht along with her friends. Nora and her friends enjoyed their time diving in the sea, dancing together, and much more.
Under that video, she also faced backlash. Some of her fans were disheartened by her bikini while others were in love with her curves. Some commented that they are unfollowing Nora for wearing such a bold dress and then posting a video in it. Some said you would look more beautiful if you will wear full clothes. Richa Sinha and Esha Megan also commented under her reel and they loved it.
If you also want to see Indian actress and model Nora Fatehi dancing in the middle of the sea with his friends, then watch out below!
After watching the video of Nora Fatehi, what would you like to analyze about her dancing and wearing small clothes, then don't forget to let us know your thoughts. Thanks!
Note: Importantly, all credit for the video and photos goes to Nora Fatehi's Instagram.