Showbiz
Malala Yousafzai's adorable photos with her family are unmissable; check out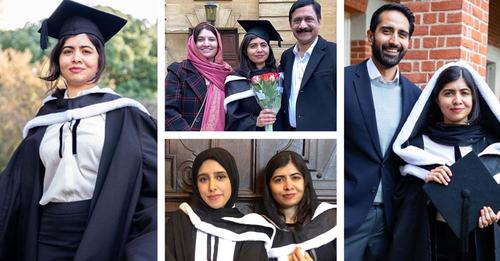 Malala Yousafzai, who surely needs no introduction, is shining the name of Pakistan all over the world due to her simple personality. She has become the idol of many young children in Pakistan. She also wants every child in Pakistan to get an education and make the name of their country bright.
Malala Yousafzai got married to Asser Malik last year in 2021. The wedding ceremony was held in Europe with great simplicity. Sources say that Malala Yousafzai's husband belongs to the Pakistan Cricket Board (PCB) and holds an important position. Malala belonged to the city of Swat in Pakistan, she moved to the abroad country when the Taliban shot and injured her in her district.
Malala Yousafzai also has this honor, she has won the Nobel Prize. On the other hand, Malala Yousafzai completed her graduation from Oxford University after marrying Asser Malik. To commemorate her graduation day, Malala took pictures of herself and shared them with her fans. In the viral photos, it can be seen that her parents, her husband, and her close friends are also present on this occasion.
One thing we want to mention here is that there are many people in Pakistan who hate Malala Yousafzai in their hearts. Someone says that Malala is an agent of a country, then someone says that Malala has ruined the name of Pakistan by going to another country. We would just like to write here that you people should make Malala your idol because she is an educated woman and try to move forward after seeing her.
If you also want to see pictures of Malala Yousafzai, her family, and her husband receiving her degree, then check out below.
Do you also seek to move forward after seeing Malala Yousafzai as she is shining the name of Pakistan in the world? If yes then let us know your valuable comment. Thanks!