Showbiz
Viral girl 'Mera Dil Yeh Pukare Aaja' looking gorgeous in her latest bridal photoshoot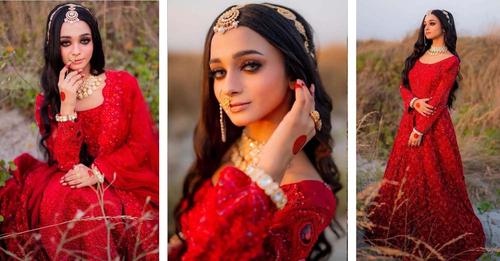 Being famous has become a lot easier in the digital age. People are becoming celebrities overnight with the help of Facebook or YouTube. The more unique you try to be, the more you can gain acceptance through this platform. Yes, in today's article we are talking about the viral girl Mera Dil Yeh Pukare Aaja named Ayesha aka Mano.
Ayesha needs no further introduction, a video of her dancing to the Indian song Mera Dil Yeh Pukare Aaja has gone viral on social media. Mano didn't know her video would be so popular all over the world including Pakistan. She said she was dancing at her friend's wedding. This Indian song is from a 1960s film. Ayesha became famous for this song only because she performed the dance step in a very unique style.
After becoming a social media star, Ayesha has now stepped into the world of modeling. Two days ago, this news also went viral on social media that she will soon be seen working with an Indian singer CJ Dhillon in her debut song. It is sad to see such women being promoted in Pakistan that a doctor and an engineer reach the heights of fame after working hard all their life but this era of social media has spread corruption.
Yes, in today's article, we will see pictures from viral girl Mera Dil Yeh Pukare Aaja named Ayesha modeling photo shoot. In the pictures shared on social media, it can be seen that she is wearing a red bridal outfit with her hair open and a green lens in her eyes. Sources say that this is not Ayesha's first bridal photo shoot, she has done bridal photo shoots before.
If you guys also want to see the bridal photo shoot of Ayesha who is known as Mano on social media, then check out below.
Don't forget to tell us in the comment section below, do you also feel that the new generation is being ruined on social media? And the thing being promoted is that a dance video can make you a star. If yes then don't forget to share your feedback with us. Thanks!