Showbiz
Saboor Ali Gatup Like Bollywood Superstar Aishwarya Rai Bachan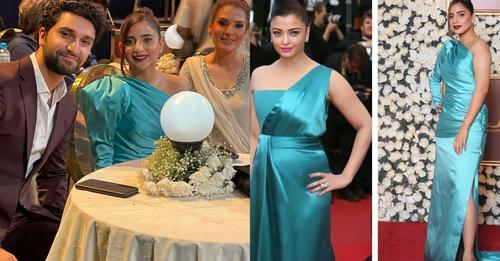 Saboor Aly is considered as one the finest,best,talented and multi skilled actress in the drama industry.She is so talented that she has won millions of peoples hearts by her performances in dramas and television series.
Most of you may not know that Saboor Aly is the younger sister of Actress Sajal Aly,Sajal Aly needs no introduction as everyone knows her.
Nature has given very talent and immense beauty to both of the sisters.
Saboor Aly mostly appears in Pakistani dramas and television series,she began her career as a supporting role with her sister in the drama serial Mehmoodabad Ki Malkain and then she got lot of fame and recognition with a comic role in the sitcom Mr.Shamim.
Saboor Aly was born in 1995 and is 26 years old.Saboor was also nominated for the 20th lux style awards for the Tv female actor-peoples choice.
Saboor Aly and sister started their acting and modeling career at a very young age, they bith also confirmed that they came into the showbiz industry for financial Problems but Allah gave them so much fame and respect, no one knew that they would become the top performers in Pakistan and they will get to earn so much name in the industry.
If we talk about Saboor Aly's most famous and knowed drama,then Geo TV drama serial Fitrat was a turning point of Saboor Aly's career, the drama achieved record breaking success and fame.In addition, Saboor has also worked in more dramas which also became successful and she has also done model photoshop.
And the good news saboor gave to us that she is going to marry actor Ali Ansari in the early 2022.

But in todays article, we will look at the pics in which Saboor Aly has won the hearts of her fans by wearing a stunning western dress But Saboor Aly tried to twin with Bollywood star actress Ashwarya Rai which did not went into the favor of Saboor and drew criticism on social media.