Showbiz
Love in Full Bloom: Sehar Hayat and Sami Rasheed's valentine's day photoshoot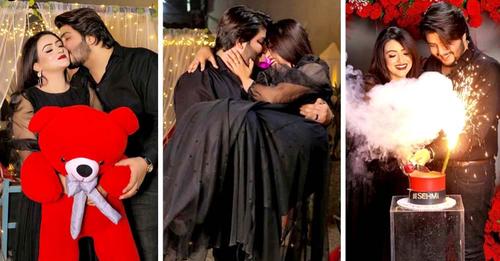 There are numerous young boys and girls in Pakistan who became famous overnight by utilizing the TikTok platform. When it comes to renowned TikTok female stars, the names of young girls such as Jannat Mirza, Kanwal Aftab, and Sehar Hayat are prominent. Indeed, this platform transformed the lives of all these girls in no time, and they are now popular social media celebrities in Pakistan.
As per Google, in 2023, Sehar Hayat, a renowned TikTok star from Pakistan, is now 24 years old. She recently tied the knot with singer Sami Rasheed a few months back and is currently savoring the initial days of her married life with sheer bliss. Besides her professional career, she also shares glimpses of her personal life with her followers on social media.
In addition to posting videos on the TikTok platform, Sehar Hayat has also launched her own YouTube channel where she shares her daily videos. She has revealed in her interviews that she enjoys filming every day to distinguish between her good and bad days. With this in mind, she fearlessly produces and publishes a variety of content on her channel.
Following her marriage, renowned Pakistani TikTok star Sehar Hayat marked her first Valentine's Day with her husband Sami Rasheed. The couple chose a timeless black and red theme, with Sehar looking stunning in her gown and Sami complementing her outfit in matching colors. The two appeared deeply in love, creating a memorable day for themselves.
If you are interested in viewing photos of Sehar Hayat, a well-known TikTok star from Pakistan, celebrating her first Valentine's Day with her husband Sami Rasheed, please take a look below.
We pray that Allah Taala keeps the love of Tik Tok star Sehar Hayat and Sami Rasheed always like this. Ameen!
Are you also strongly against celebrating Valentine's Day with your husband or your wife? If so, let us know your opinion. Thanks!