Showbiz
Teaser of 'Chand Tara' featuring Ayeza Khan and Danish Taimoor is out now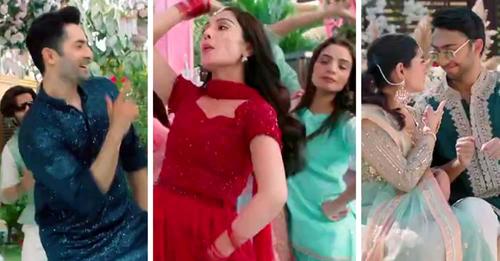 Both Ayeza Khan and Danish Taimoor are highly acclaimed actors in the Pakistani showbiz industry. Their on-screen chemistry has captured the hearts of many viewers. This Ramadan, the couple will be starring together in the TV drama serial, Chand Tara, and fans are eagerly anticipating its release.
Previously, Ayeza Khan captured the admiration of viewers with her outstanding portrayals in Ramadan dramas such as Chupke Chupke and Chaudhary and Sons. As soon as the Iftar was broken, audiences eagerly tuned in to Hum TV programs to indulge in some entertainment, causing Hum TV to gain immense popularity during the holy month for numerous years. Actresses were enthusiastic about starring in Ramadan dramas as they witnessed the positive reception of Iqra Aziz's Suno Chanda. Nowadays, it has become somewhat customary for every television network to air special shows during Ramadan.
Great news! As with previous years, Ayeza Khan will grace the screens once again this Ramadan in the drama serial Chand Tara on the Hum TV channel. What's more, Ayeza Khan will star alongside her real-life husband in this production. The couple has previously worked together in numerous dramas. The upcoming play is written by Saima Akram Chaudhry and directed by Danish Nawaz.
As the countdown to Ramadan continues, the official teaser for Chand Tara, starring Ayeza Khan and Danish Taimoor, has been released on social media platforms. In the teaser, the duo can be seen performing a dance sequence in their debut appearance. From the teaser, it appears that the drama will be a blend of entertainment, romance, and heartwarming moments.
If you're interested in watching the first teaser of the new Ramadan drama serial Chand Tara, featuring Pakistani actress Ayeza Khan and Danish Taimoor, click on the link below to view it.
After the release of the teaser on social media, fans expressed their thoughts and feelings about Ayeza and Danish's upcoming project.
Are you eagerly anticipating the release of Chand Tara, starring Ayeza Khan and Danish Taimoor? If so, feel free to share your thoughts with us. Thank you!