Showbiz
Some Memorable Moment of Shahid Afridi at his Wedding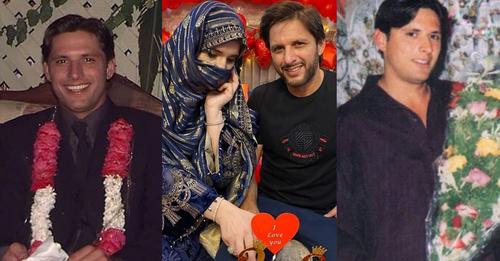 Shahid Afridi, the former captain of the Pakistan cricket team, tied the knot with his wife Nadia Afridi in 2000. The wedding was a grand affair, with many notable personalities from the sports and entertainment industry in attendance. Here are some of the memorable moments from Shahid Afridi's wedding.
Shahid Afridi's wedding ceremony was a grand affair, attended by family, friends, and other members of the Pakistani cricket team. The wedding took place in a mosque in Karachi, Pakistan, and was followed by a lavish reception.
Nadia Afridi arrived at the mosque in a beautifully decorated car, accompanied by her family and friends. The bride's arrival was greeted with cheers and applause from the guests. Shahid Afridi was waiting for his bride, looking dashing in his traditional Pakistani attire.
Shahid Afridi is a name that is synonymous with cricket in Pakistan. The former Pakistani captain is a legend in his own right, having achieved many milestones in his cricketing career. However, when it comes to matters of the heart, Shahid Afridi is a devoted family man who is madly in love with his wife, Nadia Afridi.
Shahid Afridi and Nadia Afridi have been blessed with four beautiful daughters, Aqsa, Ansha, Ajwa, and Asmara. The family pictures are a testament to the couple's love for each other and their commitment to their family. The pictures show the couple spending quality time with their children, going on vacations, and attending events together.