Showbiz
Fahad Mustafa's heartfelt rendition of 'Kahani Suno' will touch your soul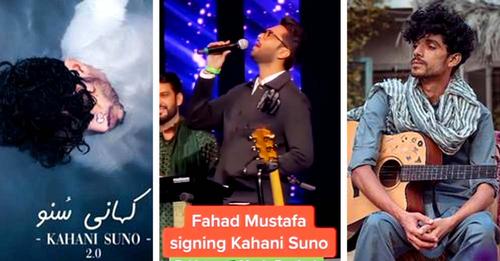 The video of popular actor-host Fahad Mustafa showcasing his singing talent on the beautiful track 'Kahani Suno' by Kaifi Khalil has gone viral on various social media platforms. In the video, Fahad can be seen mesmerizing the audience with his soulful rendition of the song, receiving immense praise and adoration from his fans and followers.
Fahad Mustafa, the host of the popular game show 'The Fourth Umpire', recently performed at a concert in Toronto where he treated the audience to a rendition of the hit song 'Kahani Suno' by Baloch singer Kaifi Khalil. The performance was captured in a widely-shared video that received thousands of likes and garnered mixed reactions from social media users. While some praised Fahad's singing skills and applauded his attempt at the iconic track, others were quick to point out errors in the lyrics. Despite the criticism, the video continued to attract attention and sparked a conversation about Fahad's foray into music.
Last year, singer Kaifi Khalil released 'Kahani Suno 2.0', a heartbreak song that became an instant hit and continued to maintain its popularity despite numerous covers and Instagram reels. The track even topped global YouTube trends, proving its staying power in the music scene. With its haunting melody and poignant lyrics, 'Kahani Suno 2.0' has become a favorite among music enthusiasts who continue to appreciate and enjoy the song.
In addition to its popularity, 'Kahani Suno 2.0' has been covered by well-known musicians like Aima Baig, Bilal Saeed, and Dutch singer Emma Heesters, which has further added to the song's widespread appeal among music lovers.
A video clip of Fahad Mustafa's performance of 'Kahani Suno' at the Toronto concert was shared by an attendee and later reposted by multiple entertainment pages on various social media platforms, gaining widespread attention and sparking conversations about the actor's singing skills. By clicking on the link below, first, listen to the song "Kahani Suno 2.0" in the voice of Fahad Mustafa.
Please don't forget to share your thoughts on Fahad Mustafa's rendition of 'Kahani Suno' in the comments section below. We look forward to reading your valuable feedback. Thank you!