Showbiz
Shaufta Ejaz and her Family Enjoy Vacations in UK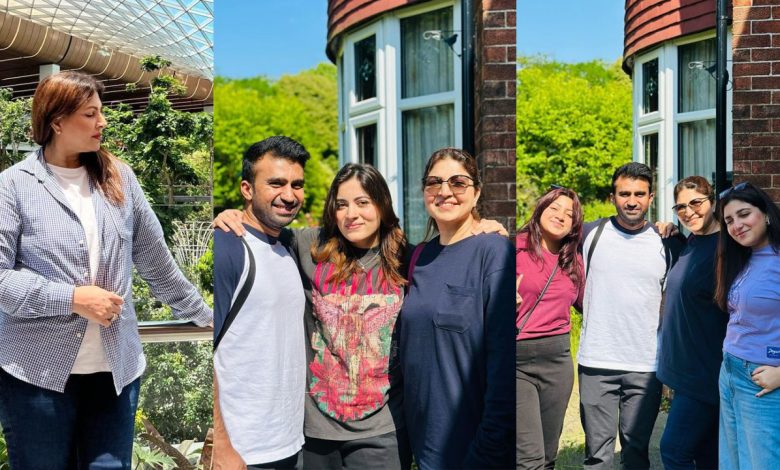 Shaufta Ejaz, the talented Pakistani actress, recently embarked on a vacation with her family in the picturesque landscapes of the United Kingdom, creating unforgettable memories filled with joy, exploration, and togetherness. The trip served as a perfect opportunity for Shaufta and her loved ones to escape the routine of daily life and immerse themselves in the beauty and culture of a different country.
Shaufta Ejaz, known for her remarkable performances on screen, has captivated audiences with her versatile acting skills and charismatic presence. Beyond her professional success, she values the importance of family and cherishes the moments spent with her loved ones. The vacation in the UK was a reflection of her commitment to creating experiences that strengthen family bonds and create lifelong memories.
The pictures shared by Shaufta Ejaz from her vacation depict a delightful blend of stunning landscapes, laughter, and moments of pure bliss. From iconic landmarks like the Tower Bridge and Buckingham Palace to the serene beauty of the English countryside, Shaufta and her family immersed themselves in the sights and sounds of the UK.
What made the vacation even more special was the presence of family. Shaufta's decision to embark on this journey with her loved ones demonstrates her commitment to nurturing relationships and creating lasting memories. It is a testament to her warm and inviting nature that inspires others to share in her joy and happiness.
The vacation also provided an opportunity for Shaufta Ejaz's children to explore a different country and broaden their horizons. It is through such experiences that children gain a deeper understanding of the world and develop a sense of appreciation for different cultures. By immersing themselves in a new environment, Shaufta's children were able to grow, learn, and create lasting connections with their family.