Showbiz
Minal Khan and Ahsan Mohsin Ikram kiss in valentine's day photo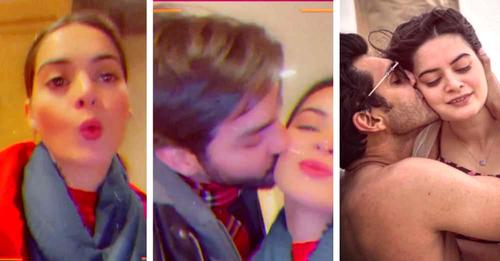 Minal Khan, a Pakistani actress, has taken a hiatus from acting in new TV dramas and has been absent from the TV screen for nearly a year since becoming Ahsan Mohsin Ikram's bride and wife. Based on the photos she posts on Instagram, it appears that she is presently relishing her married life. Naturally, during the initial stages of their marriage, the couple is also striving to comprehend each other.
Minal Khan, a 24-year-old actress, began her career as a child star in television commercials. In her previous interviews, she affirmed that her father had a desire for her twin daughters to act on TV, and their initial chance to work on television was provided by a friend of their father. Initially, when the two sisters appeared on TV, it was challenging to distinguish between Aiman and Minal, who are identical twins.
Minal Khan's latest appearance was in the ARY digital drama series "Ishq Hai," where she acted opposite actor Danish Taimoor. However, she has not taken on any new projects since then, and there seems to be no indication that she will be returning to work anytime soon. In contrast, Minal Khan has transitioned away from the entertainment industry and into the realm of entrepreneurship, having established an online clothing brand (Aiman Minal Closet) with her sister.
In today's article, we will discuss how Minal Khan has posted a video on her official Instagram account, where she is celebrating Valentine's Day with her spouse Ahsan Mohsin Ikram. During the celebration, Minal and her husband donned matching red shirts, and in the video, Ahsan Mohsin Ikram surprised Minal Khan with a sweet kiss on her cheek as a display of affection. Minal Khan reacted with laughter and returned the gesture with a kind gesture of her own.
If you're interested in watching the video and viewing some heartwarming photos of Pakistani actress Minal Khan enjoying Valentine's Day with her spouse, take a look below.
Married men are welcome to share their experiences in the comment section if they've ever spontaneously fallen in love with their wives cheeks. We look forward to reading their fascinating tales if any of our readers have such a story. Thank you!