Showbiz
Actor Emmad Irfani's Son Passed Away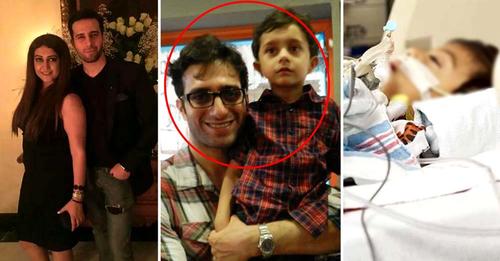 Emmad Irfani made his debut in the Pakistani film "7 Din Mohabbat In" in 2018, where he portrayed the lead role. He succeeded in establishing a unique identity for himself through his brilliant performance in his very first film. In addition to his work in dramas & films, he is often seen participating in modeling photoshoots for renowned Pakistani brands.
Many people are unaware that Emmad Irfani got married to Maryam Shafat in 2010, before entering the showbiz industry. Following their marriage, Emmad & Maryam became parents to two children. Their son's name is Zaviyaar, and their daughter's name is Elanur. It's worth mentioning that Emmad's wife is not related to showbiz; she is an absolute housewife.
Some time ago, a piece of news went viral on social media, which sadly confirms the devastating loss of Emmad Irfani's son, Zaviyaar. This news was confirmed by Shanzaay Sheikh, the editor-in-chief of People Pakistan, through her Instagram story. The cause of Zaviyaar's sudden passing remains unknown. However, his funeral prayer was conducted last night (May 14, 2023) during the Isha prayer. The entire showbiz industry has plunged into mourning upon hearing the heartbreaking news of the young child's untimely demise.
If you'd like to read the post by the editor-in-chief of People Pakistan, where she shares the unfortunate news of Emmad Irfani's son's passing, please find it below:
Please don't forget to pray for the forgiveness of Zaviyaar Irfani, the son of the famous Pakistani actor Emmad Irfani, in the comment section below. We pray that Allah grants him a high place in heaven (Jannah) and gives patience to his family. Ameen.