Showbiz
Saboor Aly Bold and Lovely Clicks with Husband in Black Open Dress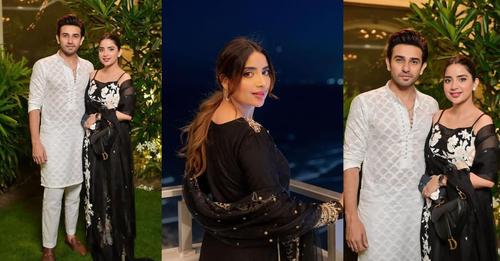 Saboor Aly, the renowned Pakistani actress, has been capturing hearts with her exceptional talent and stunning looks. Recently, the actress took social media by storm as she shared bold and captivating pictures of herself with her husband, Ali Ansari, in a black open dress.
The couple's chemistry and Saboor's confidence in embracing her bold side have sparked a wave of admiration and praise. Let's delve into the details of this unforgettable photoshoot and explore Saboor Aly's journey to becoming an icon of style and empowerment.
Saboor Aly has always been an advocate for self-expression and breaking societal norms. In her recent photoshoot, she exuded confidence and elegance while posing alongside her husband in a black open dress.
The choice of attire showcased her fearless and bold personality, as she effortlessly pushed boundaries and challenged traditional expectations. By embracing her individuality, Saboor Aly has become an inspiration for countless women who admire her unwavering courage and self-assuredness.
The pictures captured the deep bond and love shared between Saboor Aly and her husband, Ali Ansari. The couple's chemistry was evident as they posed with genuine affection and warmth. Their smiles radiated happiness, reflecting the strength of their relationship.