Showbiz
Esra Bilgic Latest Shoot Under the Critiscism in Pakistan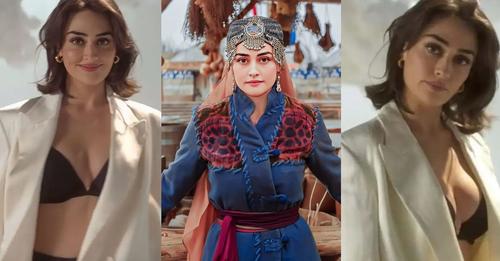 Esra Bilgic, the Turkish actress who gained immense popularity in Pakistan with her role as Halime Sultan in the hit drama series "Dirilis: Ertugrul," recently shared her latest photoshoot on social media. The pictures have generated a lot of buzz on social media in Pakistan, with fans and fashion enthusiasts expressing their admiration for her stunning looks.
Esra Bilgic, who has become a household name in Pakistan, has been making waves in the fashion industry with her impeccable sense of style and fashion. Her latest photoshoot is a testament to her fashion sense, showcasing her in a variety of elegant and stylish outfits that complement her beauty and grace.
In the photos, Esra can be seen wearing traditional and western attire, including a gorgeous black and gold gown, a chic pantsuit, and a traditional Pakistani shalwar kameez. Her makeup and hair were kept simple yet elegant, with a natural-looking base and soft waves. Her overall look exuded confidence and sophistication, making her stand out as a fashion icon.
Fans and followers of Esra Bilgic have been praising her latest photoshoot on social media, with many expressing their admiration for her beauty and fashion sense. However, the pictures have also generated some criticism from conservative sections of Pakistani society who have questioned the actress's choice of attire and styling.
Esra Bilgic's latest photoshoot is a perfect representation of her style and elegance. Her ability to fuse traditional and modern elements is what sets her apart from others in the fashion industry. Despite the criticism, her pictures have been trending on various social media platforms, with fashion enthusiasts taking inspiration from her looks.