Showbiz
Rabab Hashim and husband Sohaib Shamshad blessed with a baby girl; see first pic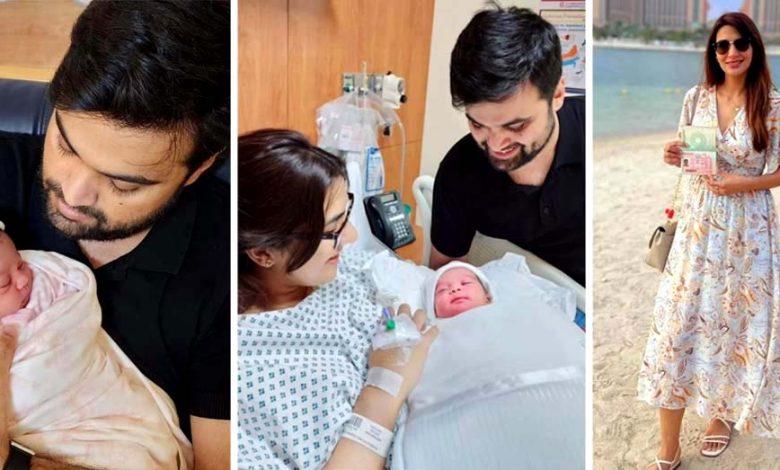 Rabab Hashim is a Pakistani TV actress who is known for her beauty, youthfulness, & talent. She has garnered much acclaim for her roles in countless successful TV drama series and has also been featured in advertisements for both local and multinational brands. Rabab Hashim began her acting career with the famous drama serial Na Kaho Tum Mere Nahi, which was widely appreciated by her fans.
Rabab Hashim tied the knot with Sohaib Ali in 2020, and the couple is now overjoyed to have welcomed their beautiful baby girl, Myesha Sohaib Ali. Interestingly, unlike other actresses, Rabab Hashim opted not to have a baby shower and kept her pregnancy a secret for the full nine months. Even now, she surprised her fans by announcing the good news with a picture of herself holding her newborn baby.
The actor known for her role in Na Kaho Tum Mere Nahi has recently shared heartwarming photos of her daughter along with a touching message. Rabab Hashim expressed her gratitude to Allah for the blessings of Ramadan, especially for the priceless gift of her adorable daughter.
Surely, Rabab Hashim keeps her personal life fairly private on social media. Since getting married, she has been enjoying the joys of life with her husband & daughter and spends much of her free time with them. As a result, she has acquired a dedicated following on social media that is drawn to her unique persona.
If you are interested in seeing the first photos of Pakistani actress Rabab Hashim spending time with her newborn baby Myesha, you can check them out below.
Don't forget to congratulate the young Pakistani actress Rabab Hashim on the arrival of her first daughter in the comments section below. Thanks!