Showbiz
Atif Aslam All Marrige Functions Photos With Lovely Sara Bharwana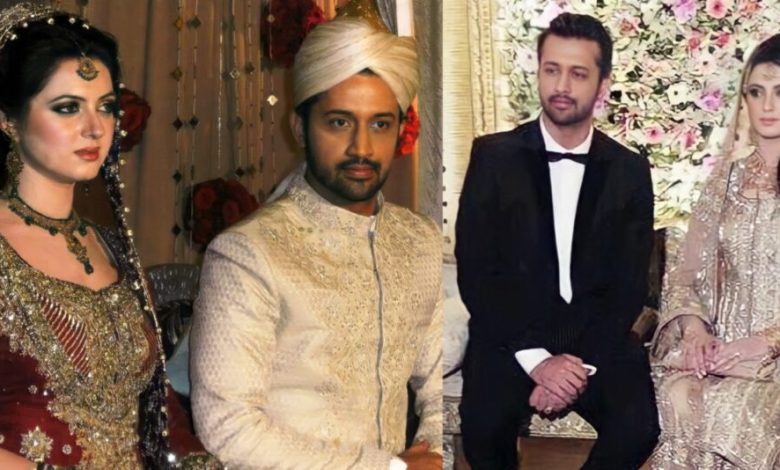 World-renowned Pakistani singer Atif Aslam has revealed that he fell in love with a girl older than himself in college and went on a hunger strike to marry her.
Atif Aslam, a 36-year-old singer who started his journey to fame with the popular song 'Aadat', revealed in an interview about his first love that 'before marriage, he fell in love with a girl in college. She was gone and the love was intense.
Atif Aslam said that college days are such that a person just does such stupid things. He also did this stupid thing.
Atif Aslam said, "He was around 23 years old at that time. At that age, you have new love and you go crazy. When he told his mother about this love, his mother was surprised. He said that he has 3 older brothers, none of whom are married yet. How can they marry him? He was not earning anything.
He added that his mother had asked him how he would support his wife after marriage and where he would feed her and the girl was older than him to which he replied to his mother that he wanted to get married. There is no age limit, they will marry the same girl.
Atif Aslam said that he had stopped eating and drinking at home for 2 to 3 days, one day his mother came to him crying to eat, he did not see his mother crying and He gave up his intention to get married.
Atif Aslam said at the end of the interview that "now he is very happy with his wife Sarah in his life."
Leading singer Atif Aslam says, "I married my wife Sarah because she doesn't like my music."
Pakistani singer Atif Aslam revealed in an interview to a British broadcaster that "his wife Sarah doesn't like his music and that's why he married Sarah."
Atif Aslam said in his interview that 'I am very busy but my wife never complains to me about it because they got married after seeing me, they did not marry me after seeing my music or my fame. ۔ '

In response to a question, Atif Aslam said, "My parents are simple people. They raised me in such a way that they always kept me on the ground."
The singer said, "I always think about how to thank my Lord who has blessed me with so many blessings when there are more skilled artists in the industry than me."
"Early in my career I didn't know who to meet and how to meet, how important clothes were, how important design was, I lived like a college boy, it was a very difficult time for me," he said. Was
He said that when he started playing the guitar, he did not know anything about the guitar at the time that it was played through a special melody. Some of them were trying to find a good tune.
"I made my career in singing not because I want to be number one, but because music is my soul and I say that music is what makes me God," he said.
"When I was 14 years old, I heard a Naat called Qasida Burda Sharif. When I heard it, it caught my ear," he said.
He said, "At that time we did not know how important this thing is. It contains the name of our beloved Prophet Muhammad. After hearing that, they started looking for what the universe is." What is Allah? What is the universe made for? And then they started listening to music. '
"I am convinced that what is written in my destiny will come to me," he said.
"I never thought I would have so many fans in India, but now that they have, it's a good thing," he said.