Showbiz
Noman Habib Some Latest Pictures with his Wife and Kids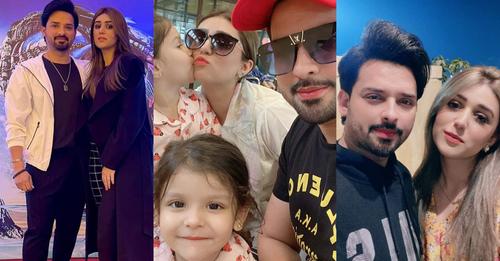 Noman Habib is a Pakistani actor who has made a name for himself in the entertainment industry. While his professional life is often in the spotlight, he prefers to keep his personal life private. However, he occasionally shares glimpses of his family life on his social media accounts. Here are some of his latest pictures with his wife and kids.
Noman Habib tied the knot with his wife, Asma Noman, in 2017. The couple has two adorable kids, a son named Rayan and a daughter named Rida.
In one of the latest pictures shared by Noman Habib on his Instagram account, the family is seen enjoying a day out at a park. Noman is holding his daughter Rida, while his wife Asma and son Rayan stand beside him. The picture shows a happy and loving family spending quality time together.
Noman Habib also shared a picture of his son Rayan's first day of school. The proud father is seen holding his son's hand as they walk towards the school gate. The picture captures the emotions of a father who is watching his son take his first steps towards independence.
Noman Habib's social media accounts are a testament to the love and happiness that he shares with his family. While he keeps his personal life private, he occasionally shares glimpses of his family life with his fans.