Showbiz
Hania Aamir Enjoy These Eid with Simplicity Mood Smiling Pics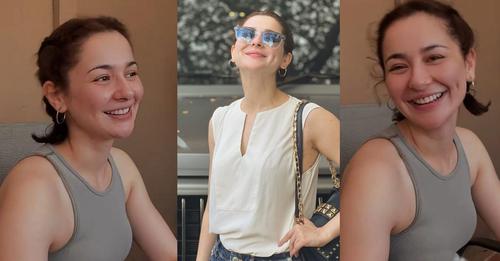 Hania Aamir, the talented and charming Pakistani actress, is known for her impeccable acting skills and stunning looks. However, she is also known for her simplicity and down-to-earth nature. This Eid, Hania celebrated the festive occasion with the same simplicity and a happy mood, as seen in her smiling pictures that she shared on social media.
The actress, who is known for her roles in dramas like "Anaa" and "Ishqiya", shared pictures of herself in a simple shalwar kameez with minimal makeup, radiating a natural beauty. In her pictures, she is seen smiling and enjoying the festive occasion with her family and loved ones. She also shared pictures of her Eid preparations, including baking Eid sweets and decorating her house with lights and flowers.
Hania's pictures are a refreshing reminder of the true spirit of Eid, which is about spending time with loved ones and enjoying the little moments of happiness. In a world where social media often portrays a perfect and luxurious lifestyle, Hania's simplicity and happiness are a breath of fresh air.
The actress has been making headlines for her work in the entertainment industry and her social media presence. She has also been vocal about important issues, including mental health and body positivity, using her platform to raise awareness and encourage self-love and acceptance.
Hania's fans and followers were quick to shower her with love and praise for her simple and happy Eid celebration. Many also expressed their admiration for her beauty and personality, calling her a role model for young girls and women.