Showbiz
Javeria Saud's daughter Jannat Saud gets her eyebrow piercing done from abroad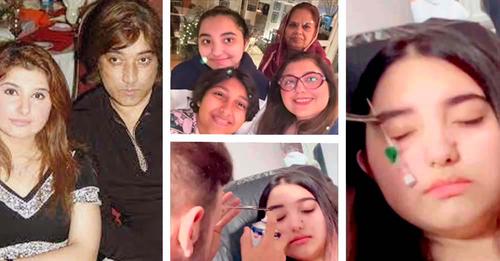 Javeria Saud keeps giving an insight into her daily life with her vlogs. This lady is quite fond of traveling and keeps roaming about at different traveling destinations. From jetting off to their destination to having scrumptious food, she makes sure to make her fans get a sight of all these luxuries.
People do troll her kids quite often whenever she comes up with some images or videos. Be it Ibrahim's hairstyle or Jannat's arrays they've got problems with every little thing. Well, once Javeria Saud clearly backlashed at these so-called critics and tried hard to shut it down. Well, Javeria is also known for her hosting and during Ramadan, she hosted live streaming from her house. From iftar preparation to dinner, everything could be seen live.
During their vacations abroad this time, Javeria Saud has got her daughter's eyebrows pierced. She went on sharing this video and the whole procedure was seemingly so smooth (pain-free). Javeria Saud always keeps their children at the top of their priorities and we are in love with their Bondi Bondi bonding. Jannat is looking too good and is definitely rocking this look.
Javeria never cares about the comments of people but yes prefers to do what makes her happy. People are definitely not going to spare this little princess for eyebrow piercing.
If you guys want to see the video of Javeria Saud getting her eyebrow pierced, click on the link below to watch the full video.
By the way, how would you guys rate her as an actor? Do share your thoughts with us here in our comments section below. Thanks!