Showbiz
Mariam Ansari Simplest Birthday Celebration without makeup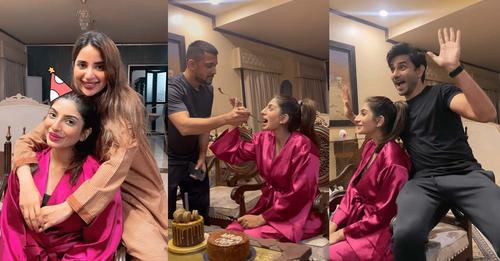 Mariam Ansari, a Pakistani drama actress, recently celebrated her birthday in style with her friends Saboor Aly and Ali Ansari. The beautiful pictures from the celebration showcase the joy and happiness shared by the group. Let's take a closer look at this event!
Mariam Ansari is known for her dedication to maintaining a healthy lifestyle, and is particularly committed to her gym routine and diet plans. She never misses a workout session, no matter what. Mariam Ansari and Owais Khan are also famous for being an attractive couple, who inspire others with their goals. After tying the knot in 2021, the couple has been enjoying vacations at various destinations.
Mariam Ansari, the renowned Pakistani actress, recently celebrated her birthday in a unique way, keeping it simple and without any makeup. The actress, who is known for her stunning looks and exceptional acting skills, opted for a low-key celebration with her loved ones.
Mariam Ansari shared glimpses of her birthday celebration on her social media account, where she could be seen wearing a casual outfit with no makeup, embracing her natural beauty. She expressed her gratitude towards her fans and loved ones for their wishes and blessings, making her birthday even more special.
The celebration was an intimate affair with close family and friends, where the actress enjoyed a cozy dinner with her loved ones. The pictures from her birthday celebration reflect the simplicity and warmth of the occasion, with Mariam Ansari radiating joy and contentment.