Showbiz
Nose surgery: Actress Naimal Khawar leaves fans stunned with new unrecognizable look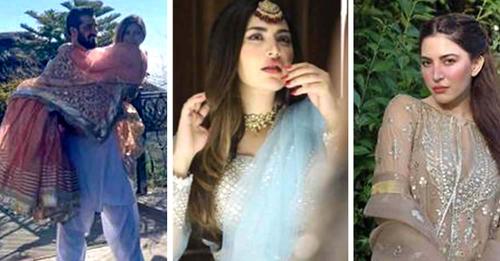 Naimal Khawar is a highly acclaimed film and drama actress from Pakistan who is renowned for her stunning beauty. She began her acting career in films before transitioning to TV dramas and is also a talented calligraphy artist.
Naimal Khawar gained widespread popularity following her marriage to the renowned Pakistani actor Hamza Ali Abbasi. Their wedding was a modest affair held in Islamabad, with no ostentatious displays of wealth, and was arranged at a minimal cost. Within a few months of their marriage, Naimal and Hamza were blessed with a son named Mohammad Mustafa Abbasi.
Naimal Khawar recently shared some new photos on her Instagram account, showcasing the latest designs by fashion designer Faiza Saqlain. Fans were taken aback by her striking appearance in these pictures, which presented a departure from her previous looks.
In other news, Hamza Ali Abbasi, Naimal Khawar's husband, is set to appear in the upcoming TV drama series Jaan-e-Jahan alongside Ayeza Khan. This has led to speculation that Naimal Khawar herself may soon be making an appearance on television screens as well.
If you guys also want to see new pictures of Pakistani actress Naimal Khawar in clothes by Faiza Saqlain, in which she has been quite different, then check out below.
Are our readers also seeing Naimal Khawar as different actress in these pictures?
As soon as these pictures of Naimal Khawar went viral on social media, people expressed their surprise like this.
As soon as these pictures of the actress started going viral on social media, people started saying that she had undergone a nose surgery.
Do you guys also think that Naimal Khawar has done the surgery (Nose surgery) in a new way, as usual, this time again? Don't forget to let us know your thoughts in the comment section below. Thanks!