Showbiz
Madiha Razvi Reached at 40 a Simple Surprised Birthday Pictures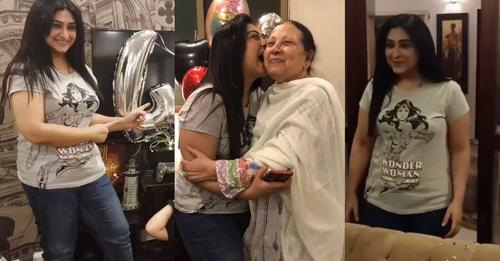 Madiha Razvi, a Pakistani social media influencer and fashion model, recently celebrated her 40th birthday with a simple yet surprised celebration. She shared some pictures from her special day on her social media accounts, and they captured the essence of her simple yet elegant celebration.
The clicks shared by Madiha Razvi showed her in a beautiful red dress, surrounded by her family and close friends. The decorations were simple yet elegant, with balloons and flowers adorning the space.
One of the most striking clicks showed Madiha Razvi holding a bouquet of flowers, with a beautiful smile on her face. The click captured the joy and happiness of the moment, and Madiha Razvi looked radiant in her beautiful dress.
Another click showed Madiha Razvi surrounded by her family and friends, with everyone gathered around a beautiful birthday cake. The cake was simple yet elegant, with a message wishing Madiha Razvi a happy 40th birthday.
The simple yet surprised celebration of Madiha Razvi's 40th birthday has received a lot of love and appreciation from her fans on social media. Many people have praised her for celebrating her special day in a humble and elegant manner, and for setting an example of simplicity and humility.