Showbiz
Some Pakistani celebrities who will not be with us this Ramadan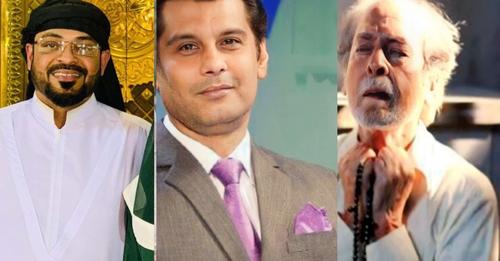 The month of Ramadan is a very blessed month. Every Muslim eagerly waits for this month because every Muslim wants to earn seventy sins and good deeds by doing worship. But every year in Ramadan there are some people who were with us in the previous Ramadan but they will be with us in the next Ramadan. It doesn't happen together, they fall in love with Allah's Self.
With the advent of Ramadan, while everyone is remembering their loved ones, the memories of celebrities who are no longer with us are also depressing.
In this news of our website, we will tell you about the same.
Aamir Liaquat Hussain:
The famous anchor and religiously popular Aamir Liaquat Hussain had made such a tradition of Ramadan transmission, that now if there are no good things on TV during Sehar and Iftar in Ramadan, then gold would be gold.
But now the founder of Ramadan Transmission is gone from this world, and this Ramadan would be without him, no one could have imagined.
Aamir Liaquat Hussain, who coached Jahan Fani last year, not only depressed everyone but also surprised the fans because no one had any idea that this star would break so soon.
This host who used to transmit Sehr and Iftar Marathon was popular in every house, this Ramadan this star will be remembered by every house. After Ramadan transmission, Amir used to visit Makkah and Madinah, because he could not perform Umrah during Ramadan.
Qavi Khan:
Famous actor Qavi Khan also passed away this year, the senior actor was one of the few actors who was an unparalleled actor and talented artist of his time.
Last year, Qavi Khan, who played the role of grandpa in Hum TV's drama Chupke Chupke, also gave the drama four moons. On the other hand, the fans were indecisive this Ramadan because Qavi Khan might appear in a role this time.
But after his death, this Ramadan will surely become painful for his loved ones.
Arshad Sharif:
A famous journalist and a big name in investigative journalism, Arshad Sharif.
who was martyred in Kenya last year, although Arshad was at the forefront of the journalistic field, his talk show was quite popular even during Ramadan, where viewers watched his program after breaking the fast and during the Isha and Taraweeh prayers. used to.
Arshad's bitter but genuine questions not only pricked the politician but also made him incredulous. Arshad's fans will definitely miss him this Ramadan too.
Ismail Tara:
A famous actor and a star of the comedy world who has made a name for himself, Ismail Tara. Ismail Tara, who played an interesting role in Yeh Zindag Hai, played many popular roles, but his comedy character was loved by everyone.
When he is no longer with us this year, a talented and ethical actor like him will be sorely missed.