Showbiz
Jamshid Dasti Nikah Photos Viral On Social Media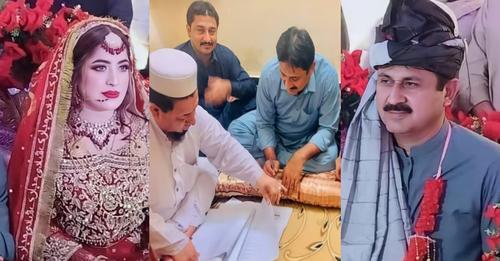 Jamshed Dasti, A Pakistani Politician and former member of national assembly has recently stunned everyone with his surprising wedding pictures. He was a member of national assembly from 2008 to 2018. He got married in 2021 and now this year is again coming up with another wedding edition. He is known as a rebellious man for doing certain dramatic acts. The best examplry was his stunt when he went on a donkey cart to submit his nomination papers.
According to family sources, Dasti would give the girl Rs10000 in Haq Mehr. Sources said Dasti's friends arranged his marriage to Peshawar city-based family's daughter.
The bride is a Bio-Chemistry graduate from Gomal University and Dasti will bring the bride home in March 2022.
Dasti is famous for his rebellious attitude and antics to show his affinity with the poor from riding a donkey cart to take the law into hands.
Previously, Former MNA Jamshed Dasti has tied his wedding plans to the PTI's ability to control inflation, saying that he will get married when the current government leaves and inflation is controlled.
"Once the government leaves and inflation is controlled then I will get married," said Dasti. He added that he cannot get married in the current government's tenure and asked people to pray that the government leaves.
He was also associated with PPP and just like other politicians kept changing his loyalties. His wedding pictures has taken the internet by storm and people are also coming up with some hilarious comments. Jamshed Dasti 44 earlier married a girl, a master's in Biochemistry From Gomal University.
Jamshed Dasti had to resign from his seat in national assembly for holding fake degrees and he's definitely the only one, we have several politicians who have excelled in making people fool with their ingenuity and fake documents. Jamshed Dasti has definitely given a surprise and what about the sane surprise in next year (Pun Intended). Well, these so-called Awami persons just have their own pursuits and it's their top most priority.
People are extending their heartiest congratulations to this loving couple. The new bride seems to be much happy and of course, Dasti Sahab is happier. Hilarious comments are making us laugh as someone asked him if it is his first wedding or an extra one? Internet is totally reacting in the funniest way on his wedding. Here are a few pictures, have a look.