Showbiz
Shaista Lodhi is a Glamarious Side looking, Teenage girl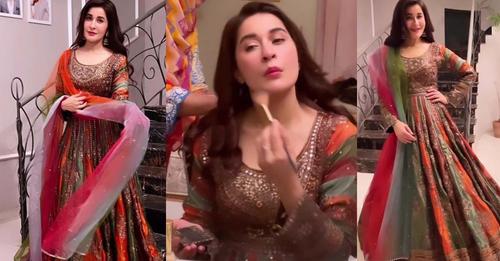 Shaista Lodhi, one of Pakistan's most popular television hosts, is known for her stunning looks and impeccable sense of style. In her latest project, Shaista has once again proven that she is a force to be reckoned with when it comes to fashion and beauty.
In a series of photos shared on social media, Shaista is seen sporting a glamorous look that is sure to turn heads. She is dressed in a stunning red gown that hugs her curves and accentuates her figure. Her hair is styled in loose waves, and she is wearing bold makeup that highlights her striking features.
The photos have received a lot of attention from fans and followers, who have praised Shaista for her beauty and elegance. Many have commented on her flawless skin and her ability to always look camera-ready.
Shaista Lodhi is a multi-talented individual who has achieved success in various fields. With a background in medicine, Shaista founded an aesthetics clinic that offers specialized care to people seeking to improve their appearance and address concerns related to their skin, hair, or weight.
In addition to her medical expertise, Shaista is also a renowned television host and actress. Her passion for media led her to pursue hosting, and she quickly rose to fame as the queen of morning shows in Pakistan. Shaista has hosted morning shows on all major channels in the country, and her popularity has only continued to grow.