Showbiz
Throwback photos of Shaheen Shah Afridi, wife Ansha Afridi performing Umrah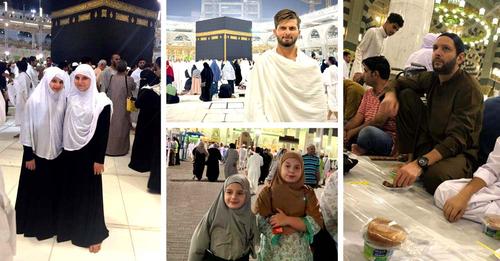 Last Friday, the pictures of Pakistan cricket team's fast bowler Shaheen Shah Afridi and Pakistan cricket team's former captain and all-rounder Shahid Afridi's daughter Ansha Afridi's wedding (nikkah) went viral on social media and their fans enjoyed the day. The family and close friends of Shahid Afridi and Shaheen Shah Afridi attended this wedding and made this wedding more memorable.
Shaheen Shah Afridi began his cricket career by joining the Lahore Qalandars team in the Pakistan Super League (PSL). He made an immediate impact as a fast bowler in his first season and wowed audiences with his impressive array of bowling techniques. His strong performance throughout the PSL tournament led to his selection for the national cricket team, making his debut with the Pakistan International Cricket Team in 2018.
On the other hand, Shahid Afridi, nicknamed Boom Boom, made his international cricket debut in 1996. He set a record by scoring the fastest century in just 37 balls in his second One Day International (ODI) match, earning him his famous nickname. After a 22-year career, Afridi retired from all formats of cricket, including One Day International, T20, and Test cricket, in 2018. Today, he is frequently seen providing analysis on private TV channels in Pakistan and India.
Today's article focuses on old photos of Shahid Afridi, his son-in-law Shaheen Shah Afridi, and his wife Ansha Afridi performing Umrah, which have been circulating on social media. The pictures show that Shahid Afridi's two elder daughters, Aqsa and Ansha, performed Umrah at a young age. Meanwhile, Shaheen Shah Afridi fulfilled this important religious obligation by performing Umrah last month.
Check out the throwback photos of Shaheen Shah Afridi and his wife Ansha Afridi performing Umrah below!
It's crucial to note that these Umrah photos of Shaheen Shah Afridi and Salma Ahmed were taken prior to their wedding.
Leave a comment to let us know your thoughts on the duo of fast bowlers Shaheen Shah Afridi and Ansha Afridi. We look forward to reading your feedback. Thank you!