Showbiz
Hiba Bukhari and Arez Ahmed some Family Wedding Pictures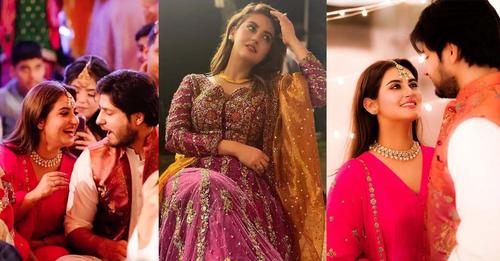 Hiba Bukhari is a prominent personality in the Pakistani entertainment industry, having made remarkable strides in a relatively brief time. She carries herself with grace and delivers performances on the small screen that are appropriate for family audiences, whether in her television dramas or photo shoots. Hiba is meticulous in her selection of wardrobe, scripts, and personal boundaries, ensuring that she only associates herself with projects that are in sync with her principles.
The Pakistani entertainment industry is always abuzz with news of the latest celebrity weddings. Recently, Hiba Bukhari and Arez Ahmed tied the knot, and their fans couldn't be happier. The couple shared some stunning family wedding pictures on social media, giving their followers a glimpse into their beautiful ceremony.
Hiba Bukhari is a talented actress known for her performances in dramas like "Mere Paas Tum Ho" and "Raqeeb Se." Arez Ahmed, on the other hand, is a rising star who has made a name for himself with his performances in dramas like "Bharas" and "Prem Gali." The couple's wedding was a highly anticipated event, and they did not disappoint.
The pictures shared by Hiba Bukhari and Arez Ahmed show the couple surrounded by their loved ones on their big day. The bride looks stunning in her traditional red dress, while the groom looks dashing in his matching sherwani. The couple's families also look happy and proud to be a part of the festivities.
The wedding pictures also show the couple's attention to detail, with their wedding decor being elegant and tasteful. The venue is beautifully decorated with flowers and lights, adding to the overall romantic atmosphere of the event.