Showbiz
Showbiz Couples Who Have Huge Differences In Age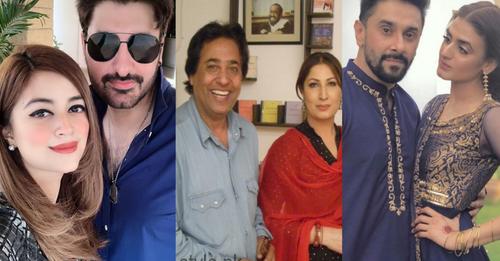 By the way, no formula for a successful married life has come up to date and no one can say definitively how much difference there is in the age of the couple to make the marriage successful – but a general impression that our According to the existing society, it is better for a woman to be younger than a man for marriage.
Seeing the difference, people are forced to make strange comments.
1: Babar Khanadakar Babar Khan's first marriage was to actress Sana Khan who died in a traffic accident He was very upset – then his family decided to marry him to his cousin Bismillah Khan, who was only fifteen years old at the time of the marriage in 2015 and was studying in the ninth grade.
K and Babar Khan were fourteen years apart in age but despite this age difference the couple is living a happy married life and they also have two children.
2: Shoaib AKhatr
Shoaib Akhtar is one of the leading players of Pakistan cricket team who could not decide to get married due to work in his career days and he was 44 years old when he decided to get married after retirement.
But the girl he chose for marriage was named Rabab and at the time of marriage she was only 20 years old ie there was a difference of 24 years between him and Shoaib Akhtar.
The couple was also blessed with a daughter by Allah. And despite this age difference, the couple is living a quiet married life.
3: Gohar Mumtaz
Pop band Jill's lead singer Gohar Mumtaz also delayed her marriage far behind her career until she liked Anam Ahmed. Gohar Mumtaz was 38 years old at the time of marriage while Anam Ahmed was 26 years old and there was a difference of 12 years between the two of them. Are very happy with –
4: Wasim Akram
Wasim Akram was first married to Huma Mufti with whom he spent fifteen years and they also had two sons but in 2009 a long illness After she separated from Wasim Akram, Wasim Akram decided to marry his Australian girlfriend Shanira in 2013.
Wasim Akram was 53 years old at the time of the marriage while Shanira was 36 years old. The age difference between the two is about 17 years. The couple has also been blessed with a daughter by Allah.

5: Syed Noor
Has made and continues to point out the important issues of Pakistan through her tweets in the coming days.
Even in Syed Noor's films, it became impossible to act as a heroine other than Saima. Meanwhile, the loving couple decided to marry each other. This was not Syed Noor's first marriage, even before that. Well-known author Rukhsana Noor was living a successful married life – but finally in 2007, actress Saima announced her and Syed Noor's marriage in front of the media.
Admittedly, there was a big difference in the ages of this couple and they were 16 years older than Syed Noor Saima.

6: Hira Mani
Love is not hidden from anyone – both of them are blessed by Allah with two loving sons but there is a big difference between the ages of this couple and they are thirteen years younger than Hira Mani.