Showbiz
Fact Behind Hina Altaf And Agha Ali Divorce Rumours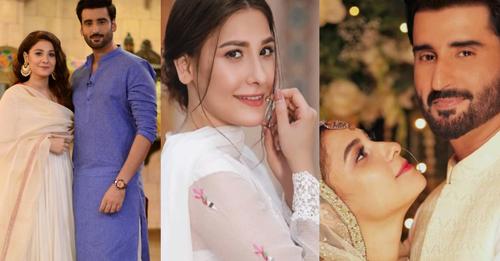 Hina Altaf and Agha Ali is a power couple which is loved by people a lot. Hina and Agha both have a significant fan following and as long as they announced their marriage fans absolutely love their Chemistry.
Both of them keep their fans updated about the latest happenings of their lives.
Recently couple has updated their fans about their upcoming show.They said that they are now a days shooting for their new show in which a lot of power couples are expected to come. Nadia Khan and Faisal Rao are spotted in their show. Alot of other celebrity power couples are also expected to come in show.
A fan of Pakistan Showbiz Industry asked a personal question on the photos of actress and host Hina Altaf.
According to the details, the actor uploaded a picture on his social media account yesterday which was liked by his fans and also expressed his opinion by commenting.
Huma Khan asked Hina, "You look very beautiful, but it has been a long time since you and Aga Khan got together."
Agha answered the question asked by the fan and said that I am here and my answer is also there.
It should be noted that actor Aga Khan and Hina Altaf got married very simply during the epidemic.
Well known actor and host Agha Ali took away the anxiety of a fan on social media. In a post shared by Agha Ali on social media Instagram, several fans have expressed concern over his and actress Hina Altaf not appearing together.
The fan had to ask Agha Ali why he does not post pictures with Hina Altaf, nor does he like Hina Altaf's post nor comment, even Agha Ali for Hina Altaf on Hina Altaf's birthday. Didn't share a single post or story.
A user named Alina Jutt further said to Agha Ali that we are all very worried, are you both okay? Replying to which, Agha Ali said that Alhamdulillah, everything is fine and what is it, there are others beyond Instagram.