Showbiz
Saeeda Imtiaz gets in touch with her Inner COWGIRL in latest photoshoot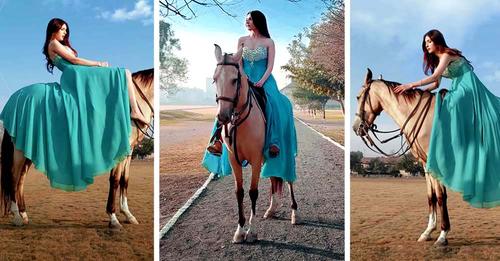 There are numerous actresses and models in Pakistan who have achieved stardom in a relatively short span of time. Today, we'll be discussing the gorgeous and tall film actress Saeeda Imtiaz. Needless to say, Saeeda is a well-known figure who has won the hearts of many with her remarkable talent.
Saeeda Imtiaz commenced her career in modeling and later ventured into the film industry. Her ethereal beauty and fair complexion instantly captivate the onlooker, making her stand out from the rest. Her Instagram page is particularly popular among the youth, as she tends to sport western attire more frequently than eastern wear.
According to sources, Saeeda Imtiaz is reportedly still single and actively searching for a suitable partner to marry. Despite being 32 years old in 2023, she has a youthful and innocent aura that gives her the appearance of a 20-year-old. Saeeda is known for her bold looks, but she has a compassionate heart and is frequently seen helping those in need.
However, in today's article, we'll be discussing a unique photoshoot by Pakistani actress Saeeda Imtiaz that has taken her fans by surprise. The viral photos feature Saeeda sitting on a horse's back, expressing her love for the animal. The photos show the horse coming to a halt upon catching sight of Saeeda's beauty.
If you guys also want to see the photo shoot of Pakistani actress Saeeda Imtiaz in which she is making love with a horse and giving a nice pose, then check out below.
Do you guys also think that Saeeda Imtiaz is ready to do all kinds of photo shoots because the money for such photo shoots is paid more? So don't forget to let us know your thoughts. Thanks!