Showbiz
Mehwish Hayat Meet some Unique Personalities in Qatar Tour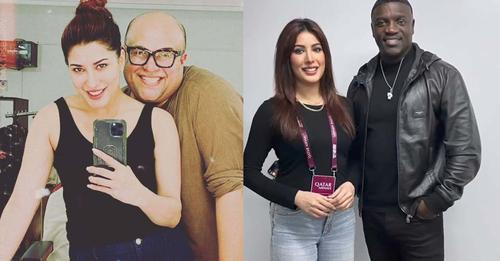 Mehwish Hayat, a talented and delightful actor from Pakistan, has made a name for herself in both television and film industries. She is widely admired for her successful dramas and films, earning her the title of the Queen of Pakistani cinema. Mehwish is known for her on-screen chemistry with actors such as Humayun Saeed and Fahad Mustafa. Her latest hit movie, London Nahi Jaunga, is currently creating a buzz among audiences.
Mehwish Hayat, the renowned Pakistani actress, and model, recently embarked on a tour of Qatar. During her stay in the country, she had the opportunity to meet some unique personalities, each with their own story to tell. In this article, we will explore some of the remarkable people that Mehwish Hayat met during her tour of Qatar.
One of the first people that Mehwish Hayat met was a Qatari man who had been a pearl diver for most of his life. He shared his experiences of diving into the depths of the ocean in search of the precious pearls that Qatar is famous for. He talked about the dangers he faced, the equipment he used, and the traditions and customs associated with pearl diving. Mehwish was fascinated by his stories and amazed by the risks and hard work involved in this profession.
Another person that Mehwish Hayat met was a young woman who had recently returned to Qatar after completing her studies abroad. She was passionate about her country and shared her vision of Qatar as a modern and forward-looking nation, while still preserving its traditional values and culture. Mehwish was impressed by her optimism and her commitment to making a difference in her country.