Showbiz
Eman Suleman too hot to handle in latest bold pictures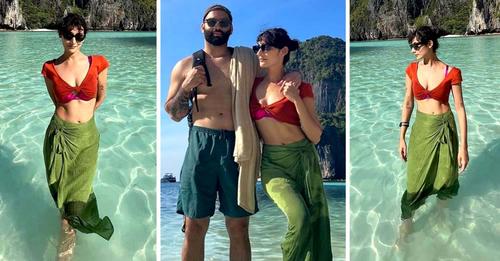 Eman Suleman is a rising star in the entertainment industry, having started her acting and modeling career in 2018 and quickly gained widespread recognition. She is also an advocate for women's rights, using her platform to raise awareness and speak out against injustices.
Eman Suleman has had the opportunity to collaborate with several renowned designers, including Fahad Hussein, and has graced the runway multiple times. Despite facing criticism and trolling on social media for her bold persona, Eman has remained unfazed and continues to champion her message of body positivity and female empowerment. Her outspokenness and fearlessness have earned her a devoted following and cemented her position as a role model for young women across the country.
Eman Suleman and Jamil Haider Rizvi, who is now her husband, had a low-key wedding a few years ago. The model opted for traditional and simple wedding ceremonies, which were attended by close friends and family members only. The couple first met when Eman expressed an interest in learning kickboxing and Jamil, who is a professional trainer, became her instructor. Their relationship blossomed over time, and they eventually tied the knot in a beautiful and intimate ceremony.
In a recent post on social media, the renowned Pakistani model Eman Suleman shared some intimate moments with her fans, showcasing her love for her husband. The pictures depict the couple in a romantic embrace, and their affection for each other is clearly visible. Eman's fans were quick to shower her with praise and admiration for being so open about her personal life. It's heartening to see such love and commitment in a world where relationships are often portrayed superficially.
If you also want to see the bold photos of Pakistan's top model Eman Suleman with her husband, then check out below!
Does love 'grow' when a couple makes and expresses love in public? Or our Pakistani Shabash celebrities do all this so that they become the center of attention. Don't forget to let us know your thoughts. Thanks!