Showbiz
Komal Rizvi breaks silence with stunning PHOTOS of second marriage on Instagram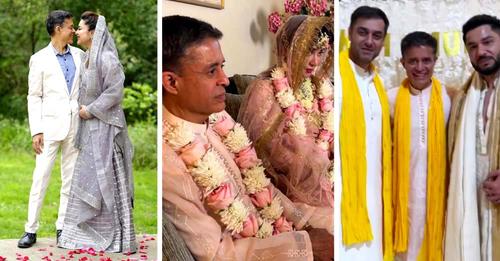 Komal Rizvi, a multi-talented and incredible singer, has ventured into various fields throughout her career. While she has pursued countless endeavors, her primary focus remains on her music career. Rizvi has delivered several chart-topping hits, including "Washmallay," "Tu Jo Mila," "Yeh Kya Hua," & "Lambi Judai."
Besides her music career, Komal Rizvi has also dabbled in acting for TV dramas and films and has established herself as a business entrepreneur with a few brands taking her name. Rizvi is known for her fearlessly open-minded and bold nature and has never shied away from expressing her strong opinions. In fact, she has previously revealed that she was in an abusive relationship during her first marriage, but demonstrated immense strength in leaving it behind.
Thrilling news for Komal Rizvi's fans today, as the singer embarks on a new chapter in her life by finding love once again and tying the knot for the second time. The wedding took place in California (USA), and Rizvi shared some breathtaking photos from the picturesque ceremony on her official Instagram account.
Sources have revealed that Komal Rizvi's new husband is a business tycoon named S Ali Uopal, who owns various enterprises in Silicon Valley. For the wedding ceremony, Rizvi looked stunning in a silver grey lehenga paired with minimal makeup and a bindi, while her husband was dressed in a white three-piece suit.
If you're eager to catch a glimpse of the wedding photos of the renowned Pakistani singer Komal Rizvi with her second husband Ali, simply scroll down below.
Let's not forget to extend our warmest congratulations to the 41-year-old Pakistani singer Komal Rizvi on her second marriage with Ali. Don't hesitate to share your heartfelt wishes for the newlyweds in the comment section below. May Allah bless their new life with ease and abundant love. Ameen!