Showbiz
Aiman Khan Expecting Her Second Baby Latest Pictures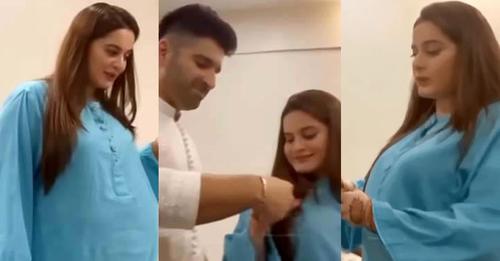 Aiman Khan, the renowned Pakistani actress and wife of Muneeb Butt, is joyfully expecting her second baby, bringing double the happiness to their loving family. The news has set off a wave of excitement among their fans and well-wishers, who eagerly await the arrival of the newest member of their beautiful family.
Aiman Khan, known for her captivating performances and natural talent, has become one of the most adored actresses in the Pakistani entertainment industry. She rose to prominence with her exceptional acting skills, charming personality, and striking looks, winning the hearts of millions of viewers across the country. Aiman has worked in numerous popular television dramas and has established herself as a versatile and highly talented actress.
After tying the knot with fellow actor Muneeb Butt in November 2018, Aiman took a brief break from her acting career to focus on her personal life. The couple welcomed their first bundle of joy, daughter Amal Muneeb, in August 2019, marking the beginning of their beautiful journey into parenthood. Aiman and Muneeb have been doting parents to Amal, often sharing adorable family moments on their social media platforms, which have garnered immense love and support from their fans.
Now, the couple is thrilled to announce that they are expanding their family, with Aiman Khan expecting her second baby. The news was revealed through a heartwarming social media post that showcased the expectant couple radiating with joy. Aiman and Muneeb expressed their gratitude for the love and prayers they have received from their fans and thanked them for being a part of their incredible journey.
As the news spreads like wildfire, fans have flooded social media platforms with messages of love and congratulations for the couple. The hashtag #AimanKhan is trending, with fans expressing their excitement and sharing their heartfelt wishes for a healthy and happy pregnancy. The fans have always admired Aiman for her talent and grace, and now they eagerly anticipate the new chapter in her life as a mother of two.