Showbiz
Kanwal Aftab and Zulqarnain Sikandar at Wedding with Family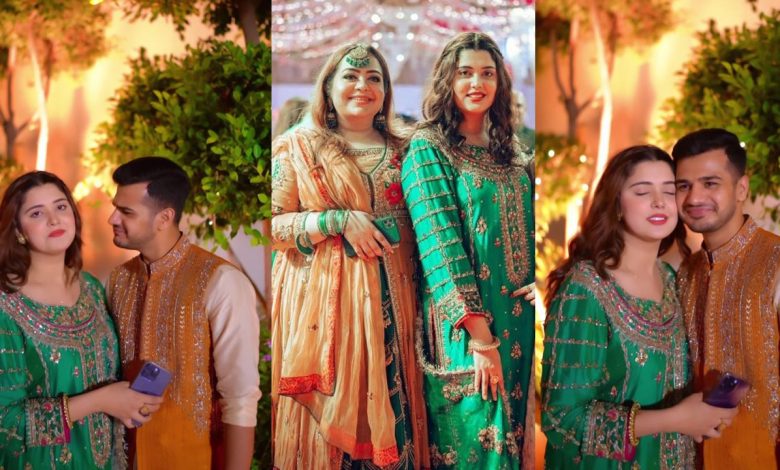 Kanwal Aftab and Zulqarnain Sikandar, two of Pakistan's most popular social media celebrities, recently celebrated their union in a beautiful wedding ceremony. The event was not just a celebration of their love, but also a testament to the strong bond they share with their family.
The wedding festivities for Kanwal and Zulqarnain were a grand affair, filled with joy, laughter, and lots of memorable moments. The couple opted for color-coordinated wedding attire, with Kanwal looking divine in her bridal ensemble and Zulqarnain looking dapper in his groom's attire.
Kanwal and Zulqarnain's families were seen sharing in the couple's happiness, participating in the rituals, and celebrating their union with great enthusiasm. The emotional moments, such as Kanwal's family getting emotional about her new stage in life, were touching and showed the deep bond they share.
Adding to the joy of the occasion was the presence of the couple's adorable daughter, Aizal Zulqarnain. The little one was a part of the celebrations, adding her own charm to the event. The couple often shares pictures of Aizal on their social media platforms, showing their love and affection for their little bundle of joy.
The wedding of Kanwal Aftab and Zulqarnain Sikandar was a beautiful celebration of love, family, and togetherness. The couple's joy was amplified by the presence and involvement of their family, making the occasion a truly memorable one. As they embark on this new journey together, we wish them a lifetime of happiness and love.