Showbiz
A son donated his lung piece to his mother, A living donor example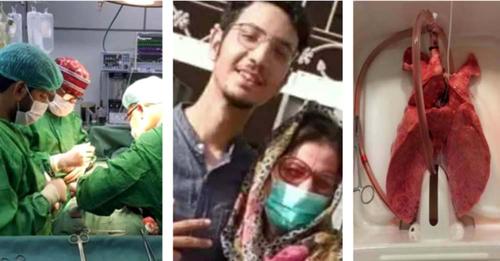 In our society having a male child is a source of pride for a mother. Drop by drop babies use their mother's blood to raise and grow. A mother's love is unconditional and selfless. She never gives this love to her children for the sake of any reward in the future but nature has also seen that when this loving mother reaches old age she becomes a burden for her children and the mother's pain her illness seems like a drama to her children. As if, she is a superwoman who can never become old nor she can get ill. But as five fingers are not equal, similarly all sons are not equal in this world.
A living example for us is Syed Tauseef Shah. Syed Tauseef is the proud son of a proud mother, who saved his mother's life by donating his liver. His mother was diagnosed with liver cancer. According to the doctors, the only way to save Tauseef's mother's life was her liver transplant. In countries like Pakistan, it is very difficult to find out a healthy lung in a short span of time. So, Tauseef decided to donate his own lung to his mother. To that mother who served her whole life for the sake of him. So, they chose Gambit Institute of Medical Sciences.
In a recent post by Syed Tauseef he thanked the best efforts and care of the staff, Tauseef mentioned that he and his mother are now fine after a five-month hectic treatment. Syed Tauseef is an exemplary son in this era. He endangered his own life for her mother's life. Also, he proved his immense love for his mother. In this era of materialism having a son like Syed Tauseef is no doubt a blessing.
What are your views about a son's sacrifice for his mother? Share your thought with us. Thanks!