Showbiz
Zia Mohyeddin Most Valuable Information About Family And Cause Of Death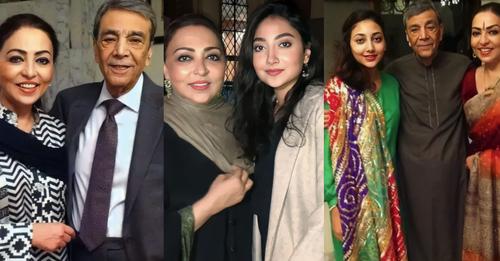 It is with a heavy heart that we share the news of the passing of the renowned actor, producer, director, and television broadcaster, Zia Mohyeddin.
We are going to dive into the life and career of the late, great Pakistani actor and broadcaster, Zia Mohyeddin. We will look at his biography, age, family, wife, daughter, and what eventually led to his untimely demise. Join us as we learn more about the man who made a lasting impression in the entertainment industry.
Zia Mohyeddin was born in 1931 in Lyallpur, (now Faisalabad, Pakistan). His father was a mathematician, musicologist, playwright, and lyricist.
During his childhood, he grew up mostly in Kasur and Lahore. He began his career in the 1950s and went on to become a successful actor, producer, director, and television broadcaster. The actor is best known for his roles in many classic films such as 'Lawrence of Arabia', 'Deadlier Than the Male' and 'Mujrim Kaun'.
He hosted a number of popular television shows including The Zia Mohyeddin Show in 1969 and continued to remain an active member of the entertainment industry until his passing.
The Family of Zia Mohyeddin:
In 1994, Zia Mohyeddin married actress Azra Mohyeddin. As a family, the couple has only one daughter named Alia Mohyeddin.
Zia Mohiuddin's first wife: who is she?
The first wife of Zia Mohiuddin was Sarwar Zemani, with whom he had two sons, Minos Ameer, and Risha Ameen.
Cause of Death:
According to the sources, Mohyeddin, 91, was suffering extreme abdominal pain and fever at a private hospital in Karachi. During an ultrasound, it was discovered that he had intestinal problems. A short while later, the actor underwent surgery and was transported to the hospital's intensive care unit (ICU). The news of his death has sent shockwaves throughout the country, as well as the world.
It is scheduled that the funeral prayer for him will be recited today, 13 February 2023, after Zuhr's prayer in Defense Phase 4 in Imam Bargah Yasrab.
Zia Mohyeddin's contributions to Pakistani entertainment have been immense. He was a true icon of the entertainment industry and will be remembered fondly by generations of fans.
Our thoughts and prayers are with his family and all those who knew and loved him, during this difficult time. May his soul rest in peace.
Furthermore, we invite you to check out our website for information on Pakistani drama casts and actor profiles. You can also follow us on Instagram and Facebook for the latest showbiz news. Thanks!