Showbiz
Zara Noor Abbasi another Dance Skills at her Cousin Wedding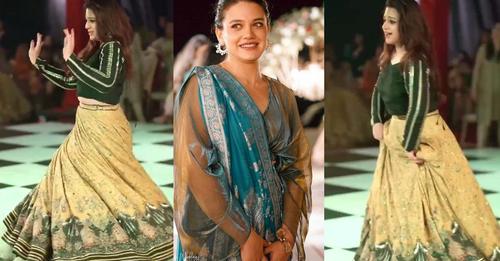 Zara Noor Abbas, the Pakistani actress and model, recently attended her cousin's wedding and left everyone mesmerized with her dance performance. The actress who is known for her acting skills, showed that she can also move her body to the beats and groove to the rhythm of the music.
The video of Zara's dance performance went viral on social media and fans couldn't stop raving about her moves. The actress was seen wearing a beautiful green lehenga choli and dancing to the song "Nashe Si Chadh Gayi" from the Bollywood movie "Befikre". Her dance moves were so effortless and graceful that it left everyone in awe of her talent.
Zara, who is known for her bubbly personality and infectious energy, had the entire audience cheering and clapping for her. Her cousin's wedding became the talk of the town and Zara's dance performance was the highlight of the event.
Zara Noor Abbas is not just a talented actress, but she is also a great dancer. She has always been passionate about dance and has often shared videos of herself dancing on her social media accounts. Her love for dance is evident from the way she moves and expresses herself through it.
Apart from her dance skills, Zara is also known for her acting skills. She has starred in several popular dramas and has won critical acclaim for her performances. Her fans are eagerly waiting for her upcoming projects and are excited to see her on the screen again.