Cook Recipes
Tex Mex Empanadas By Recipe: What you need: Crust: 2 1/2 cups whole whe…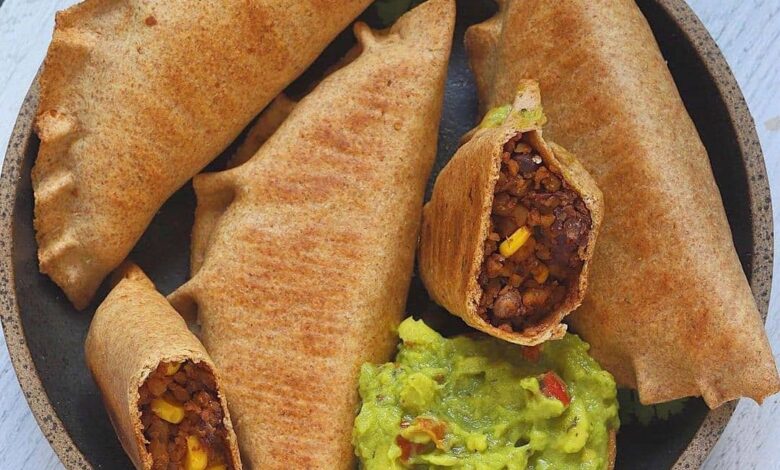 Tex Mex Empanadas 🥟🥟🥟
By thevegansara
Recipe:
What you need:
Crust:
2 1/2 cups whole wheat flour,
1/2 tsp salt,
1/4 cup refined coconut oil,
1/2-1 cup warm water
filling:
2 cups raw walnut halves,
2 tbl taco seasoning,
2 tbl red wine vinegar,
1 tbl tamari,
1 cup thawed frozen corn,
1 cup black beans from can drained/rinsed,
1 tbl vegan Worcestershire sauce,
1/4 cup chopped cilantro
What you do:
1️⃣In a food processor, Combine flour & salt, add coconut oil, keep pulsing, scraping down sides to combine, slowly add water 1 tbl at a time, process on high, when combined it will form a ball & feel smooth. Cut dough in 4 equal pieces, wrap in a kitchen towel, let rest 30min
2️⃣ Using your food processor again, pulse walnuts till crumbly & looks meaty with 1tbl taco seasoning,1 tbl red wine vinegar, 1/2 tbl tamari, 1/2 tsp salt, black pepper to taste
3️⃣In large sauté pan, over med/high heat, heat neutral oil, , add corn, black beans, the rest of seasoning/ vinegar, salt/pepper to taste, mix until heated through
4️⃣ Add walnut meat to pan, mix, add Worcestershire sauce. Season with salt pepper to taste. Let Cool.
5️⃣ On a floured dusted surface roll out one piece of the sectioned dough, use a 6 in circular cutter to make empanada crust (I used a bowl as my template), place 1/4 cup packed filling & some cilantro, on 1/2 of the dough leaving a boarder, dab boarder with water on edges of half the circle, fold into a half moon, use tines of fork to seal firmly, repeat until you use all dough, place on parchment paper. Repeat. You should get 2 empanadas from each piece of dough. Making a total of 8.
6️⃣ Mist parchment with oil bake empanadas at 400 F 20-25 flipping half way through misting tops with oil. Serve with all your favorite taco toppings- quac, salsa & sour cream. Enjoy!!!
.
.
.🥑🍅Get Our new 100+ vegan recipes click the bio link
.
.