Showbiz
Syed Jibran and His Wife Share Heartfelt Moments in Beautiful Photos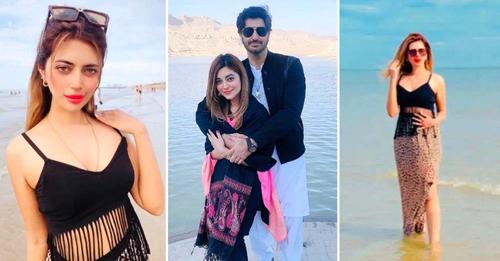 Syed Jibran is widely regarded as the top actor in the Pakistani drama industry, having won the hearts of viewers with his exceptional acting skills for many years. Despite being a doctor by profession, he pursued acting due to his passion and has now established himself as one of the leading actors in Pakistan.
Syed Jibran began his acting career in 2000 and has since worked in lead roles with every major female actress in Pakistan. In 2022, he also made his entry into the film industry and won the hearts of audiences with his exceptional performance in the movie Ghabrana Nahi Hai.
On the other hand, there have been rumors circulating on social media that Syed Jibran and his wife are experiencing some relationship issues, and that they may not be living together at the moment. However, the truth of these claims remains to be seen. It is worth noting that Jibran and his wife Afifa are parents to two children.
However, in today's article, we will be showcasing photos of Syed Jibran spending romantic moments with his beautiful wife Afifaa, which have been spreading rapidly on social media. In these viral pictures, Afifaa can be seen wearing a short dress as she poses with her husband. Undoubtedly, all the pictures that Syed Jibran has shared with his wife on social media are truly stunning.
If you would like to see photos of Pakistani drama hero Syed Jibran spending romantic moments with his wife, please check them out below!
Additionally, would you like to see Syed Jibran back on the TV screen in a new drama, and what do you think of his acting skills?