Showbiz
Minza Waqas Latest Pictures with her Innocent Husband at Event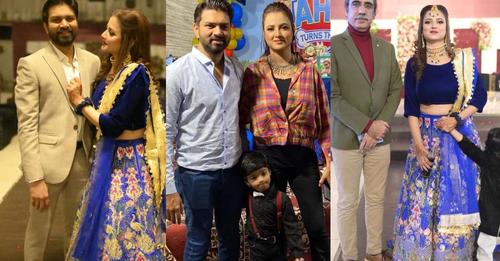 Minza Waqas is a Pakistani actress and model who has won the hearts of many with her exceptional acting skills and charming personality. She recently shared some of her latest pictures on social media with her innocent husband at an event, and fans couldn't stop gushing over how adorable the couple looked together.
In the pictures, Minza Waqas is seen wearing a stunning red dress, while her husband is dressed in a simple black suit. The couple looks deeply in love, with Minza Waqas smiling sweetly at her husband, who looks equally smitten with his beautiful wife. The pictures capture the couple's happiness and their chemistry, making them an instant hit with fans.
The event was beautifully decorated, with colorful lights and flowers creating a festive atmosphere. Minza Waqas and her husband were seen mingling with guests, laughing, and enjoying the evening together. The pictures show the couple holding hands, stealing glances at each other, and sharing sweet moments that are truly heartwarming.
Minza Waqas' fans were delighted to see her sharing her personal life on social media and praised her for her happy and positive outlook. They commented on how beautiful she looked in her dress and how cute and innocent her husband looked next to her.
Minza Waqas is a talented actress who has made a name for herself in the Pakistani entertainment industry. She has worked in various dramas and has won critical acclaim for her performances. She is known for her versatility and her ability to bring different characters to life on screen.