Cook Recipes
Spiralized Vegan Latkes   Follow for daily vegan inspiration What you nee…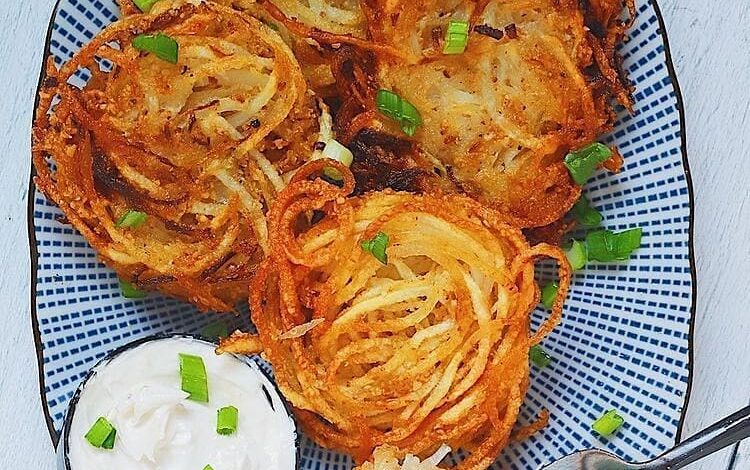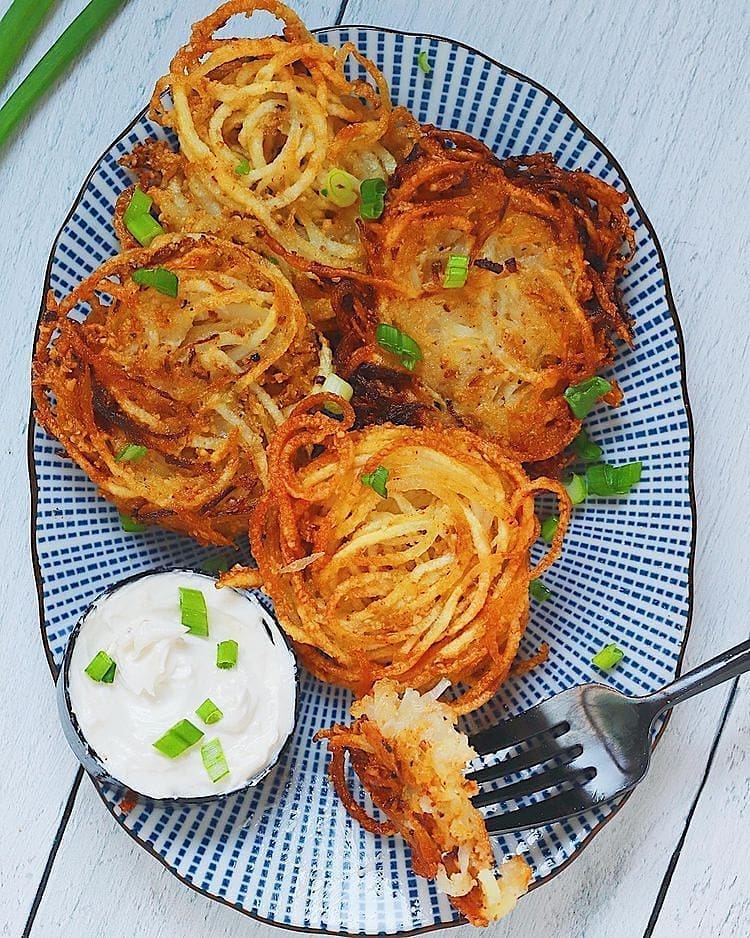 Spiralized Vegan Latkes 🧡💚❤️ 
Follow plant_basedrecipe for daily vegan inspiration 🌱💚
👉plant_basedrecipe
👉plant_basedrecipe
What you need: 
2 pounds of russet potatoes peeled & one medium onion peeled, 
1/2 cup matzah meal (sub cornmeal) , 
2 vegan eggs (I used  2 tbl flax meal/6 tbl warm water/ whisk/ wait till thickens) juice of one lemon, 
1/2 tsp fresh pepper, 
kosher salt, 
grape seed oil (sub peanut oil)
Instruction:
1️⃣ Spiralize potatoes & onion. Then  pat down potatoes & onions to absorb extra moisture with a kitchen towel. Place in bowl, mix together onion & potatoes,  flax egg, matzah meal, lemon juice, salt& pepper to potatoes. Mix well. 
2️⃣Now you are ready to make your latkes: Using a 12 inch heavy bottomed pan, add 1/2 in oil & heat on medium/ medium high heat. When you feel high heat 6 in above pan, it's ready
3️⃣Scoop  1/4-1/3 cup mix mixture and form into a  ball and push down. Place into skillet using spatula, press down. I fit about 3-4 latkes in the pan per batch. 
4️⃣When latke edges turn brown (about 3-5 min) it's time to flip. Fry for another 3-5 min. Repeat. Place on large baking sheet lined with paper towels Recipe makes about 16-20 latkes. Serve with sour cream and/or applesauce. Enjoy!!! And don't forget to set aside some latkes for yourself cause these go fast & you worked soooo hard to make them 😓💗 
By thevegansara
.
.
.