Cook Recipes
Creamy Pasta Salad by This pasta has a creamy dressing made with tahini for…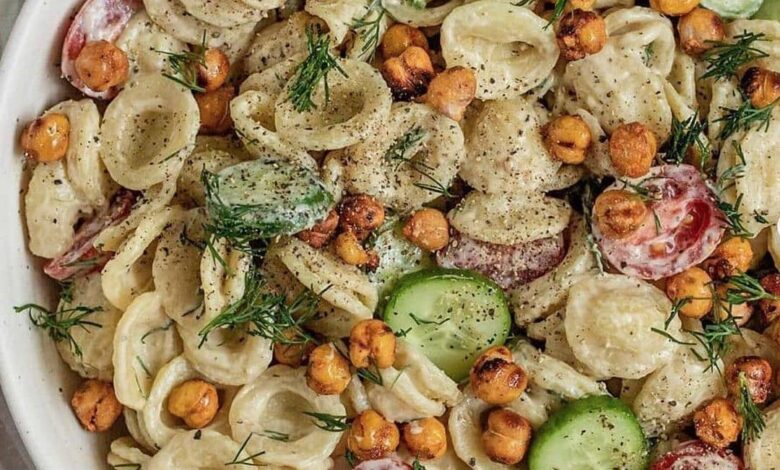 Creamy Pasta Salad
by plantbasedrd
This pasta has a creamy dressing made with tahini for a perfectly comforting meal! 😋
Creamy Pasta Salad
Tahini Dressing
1/4 cup tahini
1/4 cup vegan yogurt (this gave it a nice tang, but you can adjust the consistency by adjusting the water if you don't have on hand)
2 tsp Dijon mustard
Juice of one large lemon (2 tbsp)
1 tbsp apple cider vinegar
1/2 tsp garlic powder
1/4 tsp cayenne
1/4 tsp salt or to taste
1 tbsp nutritional yeast (optional)
2-4 tbsp cold water (to thin dressing out)
1-2 tbsp fresh chopped herbs of choice (I used dill, but parsley or basil work well too)
Prepare dressing by whisking all ingredients except the water together in a large mixing bowl. Slowly pour in your water and whisk until desired creamy consistency is reached.
Pasta Salad
1 lb dry pasta (I used orecchiette pasta)
2-3 mini cucumbers, sliced
1/2 cup cherry tomatoes, halved
Fresh cracked pepper to taste
Cooking pasta according to package then drain out pasta and rinse under cold water. Once rinsed, add to the bowl of dressing along with cucumber and cherry tomatoes and gently fold together until fully combined. Serve at room temperature with fresh cracked pepper or store in the fridge for 2-3 days.
Note: I added some roasted chickpeas overtop to make this a meal. Totally optional.
.
.
.
.
.