Showbiz
Some bold clicks of nice actress Sadaf Kanwal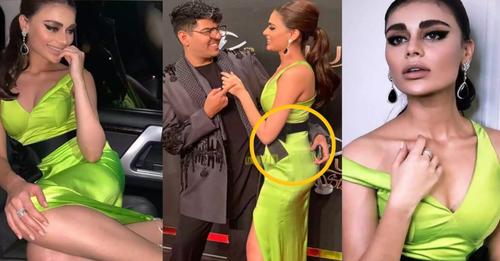 Sadaf started her career journey as a model since her college days, until now, she has walked on the runway as a bold and finest model for a number of famous Pakistani designers. She has also worked as a model for the top brands, such as Sheep, Khaadi, Sapphire, Maria. B, Shariq Textiles, Umsha by Uzma Babar, etc. Kanwal also featured the fronts of numerous top design magazines, including Sunday Plus, SHE, Good Times, Visage, Paparazzi, etc.
Sadaf Kanwal is considered one of the best actresses and famous models in Pakistan. She is a liberal model, and she has no shame in wearing all kinds of bold clothes. And for this reason, she has often been criticized on social media.
But one thing about actresses in the showbiz industry is that they don't listen to people's criticism, it seems they are used to hearing people's words from one ear and taking it out the other.
29-year-old Pakistani actress and model Sadaf Kanwal entered the modeling industry at a very young age. She has also won the Model of the Year award many times. After gaining fame in modeling, she tried her luck acting in TV dramas. Due to her excellent performances, she also managed to win the hearts of people by acting in TV dramas in a very short period of time. And she started her acting career in the year 2015 with the drama serial Maika Susral.
Apart from acting and wearing bold clothes, Sadaf Kanwal has been openly criticized some time ago when she agreed to marry Shahroz Sabzwari, son of senior Pakistani showbiz industry actor Behroze Sabzwari. A lot of people believed that because of Sadaf Kanwal, Shahroz Sabzwari left his first innocent wife Syra Yousuf. And some people even gave Sadaf the title of a house-wrecking woman. An important thing is that Shahroz has a daughter named Noreh from his first wife Syra.
But in today's article, we will see some past pictures of Sadaf Kanwal in which she is trying to show off her body by wearing western clothes. Seeing these bold pictures of Sadaf, people are asking what Behroze Sabzwari has to say now. A few days ago, Sadaf's father-in-law Behroze Sabzwari objected to the fact that women who travel on bikes and then wear tight clothes feel ashamed.
If you also want to see pictures of famous Pakistani actress and model Sadaf Kanwal in bold dress, then check out below.
Don't forget to tell us in the comment section below, do you guys also watch Sadaf Kanwal's drama serials on TV with great interest? If yes, please let us know your opinion. Thanks!