Showbiz
Shahveer Jafry & Ayesha Beig bring the world of Ertugrul to life in their latest photoshoot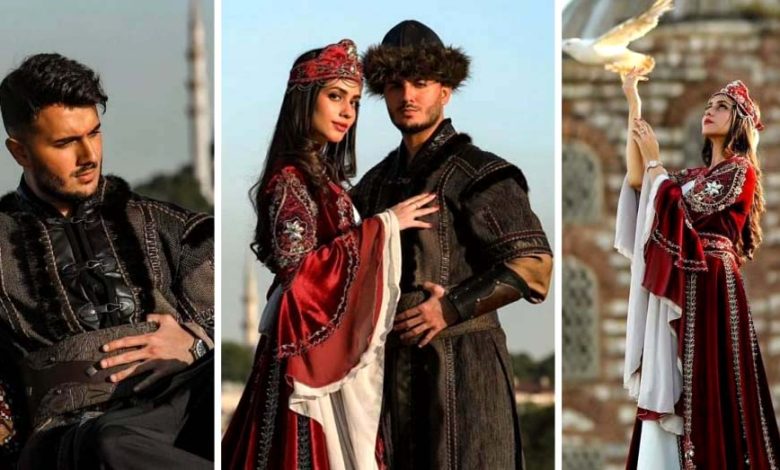 Shahveer Jafry is a renowned social media personality & YouTuber from Pakistan who gained fame around a decade ago while he was living in Canada. His engaging content has garnered a massive global fan following on various social media platforms.
In addition, Shahveer's wife, the stunning Ayesha Beig, is a well-known social media influencer & designer of modern clothing. Moreover, Shahveer Jafry hosts a highly popular weekly podcast on YouTube, along with his adorable cousin Sundas. During his podcast, Shahveer Jafry invites renowned Pakistani showbiz celebs to discuss their personal and professional experiences in an open and candid manner.
It's quite surprising that Shahveer Jafry openly expresses his love towards his wifey in public places & regularly shares pictures of their love on his Instagram account, which often leads to him receiving criticism.
Ayesha & Shahveer are known for their regular photoshoots, and their fans adore seeing them together. The lovely couple recently shared photos from their photoshoot in Istanbul, where they drew inspiration from Turkish culture and dressed up as traditional Turkish warriors, i.e. Ertugrul Ghazi and Halima Sultan.
If you guys also want to see the new photoshoot of Pakistan's famous YouTube star Shahveer Jafry and his wife Ayesha Beig, then check out below.
Do you guys also think that Shahveer Jafry was doing his right by wearing Ertugrul Ghazi's dress and his wife Ayesha Beig looked like Halima Sultan? So don't forget to let us know your thoughts. Thanks!