Cook Recipes
Quinoa Chickpea Salad with Basil & Olives by This salad is packed with avocad…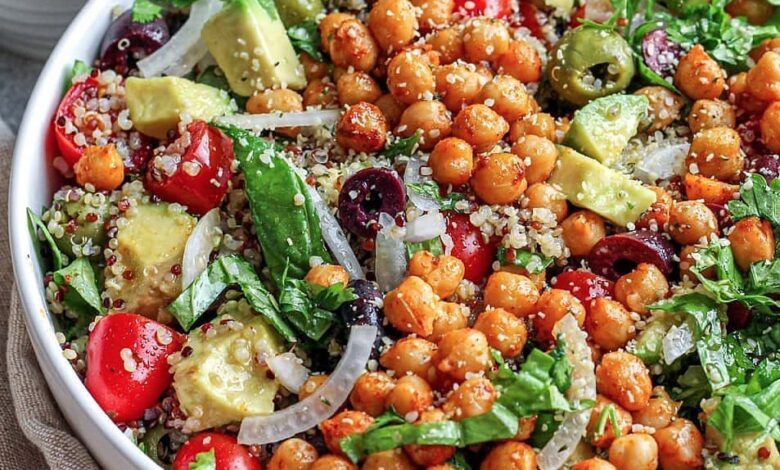 Quinoa Chickpea Salad with Basil & Olives by janetsmunchmeals ❤️🌿 This salad is packed with avocado, tomatoes and crisp sweet vidalia onions and balsamic vinaigrette! 😋
The tasty recipe is below! 👇🏼
.
1 cup uncooked quinoa
1 15 oz. can chickpeas, drained and rinsed
1 tsp avocado oil
1/2 tsp sweet paprika
1/4 tsp garlic powder
1/4 tsp kosher salt
1/3 cup kalamata olives, coarsely chopped
1/3 cup kalamata olives, coarsely chopped
1 pint cherry or grape tomatoes, halved
1/2 medium sweet vidalia onion, thinly sliced
1 avocado, diced
1/4 cup (somewhat packed) fresh basil, thinly sliced
1 tbsp (packed) fresh parsley, thinly sliced
1 tbsp hemp seed hearts
Dressing:
1/4 cup balsamic vinegar
1/4 cup olive oil
1 tsp kosher salt
1 tsp pepper
1 tsp agave nectar
1 tsp dijon mustard
Cook the quinoa according to package directions then set aside to cool. Cook the chickpeas with the avocado oil, garlic powder and salt for 3 to 4 min over medium heat.
Meanwhile whisk together the dressing ingredients, and add the remaining ingredients to a mixing bowl. Add quinoa and chickpeas to mixing bowl with half the dressing. Add more dressing as desired.
​🥑🍅 Get Our new 100+ vegan recipes
plant_basedrecipe 👈click likn in bio
.
​