Showbiz
Qavi Khan Some Memorable Pictures with his Family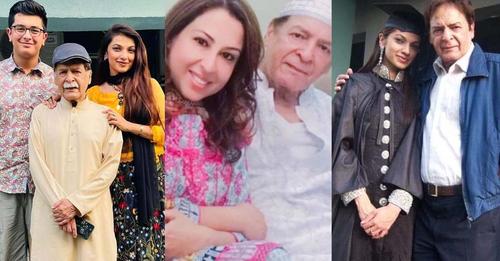 Qavi Khan is a well-known name in the entertainment industry of Pakistan. He has appeared in numerous television dramas, films, and stage plays throughout his career. But aside from his work, he values his family life just as much. Qavi Khan has been married for over 40 years and has four children, all of whom have pursued careers in the entertainment industry like him.
As an actor, Qavi Khan has played many roles, but perhaps his most cherished one is that of a husband and father. In his personal life, he enjoys spending time with his family, and there are several pictures that capture their beautiful moments together.
One of the most memorable pictures of Qavi Khan with his family is from his daughter Rabia Qavi's wedding. The picture shows Qavi Khan and his wife dressed in traditional Pakistani attire, looking proud and happy as they pose with their daughter and her groom. It's a picture that exudes love and warmth and reminds us of the importance of family ties.
Qavi Khan is a veteran actor who was born in Peshawar, Pakistan. He started his acting career in the 1960s and has since become a well-known figure in the entertainment industry. Over the years, he has appeared in a multitude of popular TV dramas, including "Dhoop Kinare," "Ankahi," "Tanhaiyan," and "Humsafar," among many others. Qavi Khan is also a prominent name in Pakistani theater and has acted in numerous plays. In addition, he has an impressive filmography, having appeared in over 200 films throughout his career.